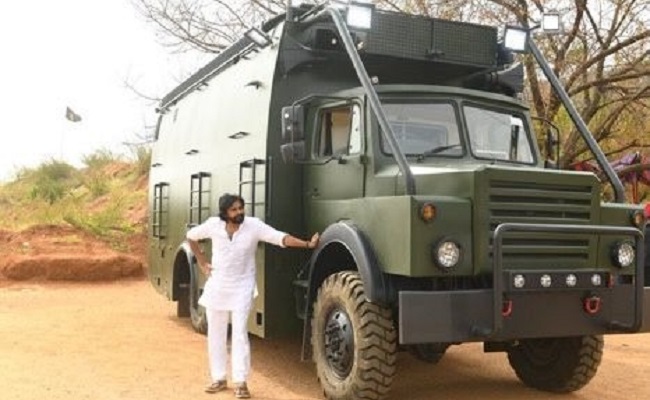 Power star and Jana Sena Party president Pawan Kalyan is getting ready for a state-wide tour to reach out to public in Andhra Pradesh on his newly acquired campaign vehicle "Vaarahi" very soon in the run up to the next year's assembly elections.
He declared that he would tour every nook and corner of the state and even gave the slogan: "Evvarraa Aapedi" (who can stop me?) to silence his critics, who were making various comments on his proposed yatra, including on his vehicle colour and shape.
All said and done, Pawan Kalyan's campaign will definitely heat up the political atmosphere in Andhra Pradesh, at a time when there are reports that he might join hands with the Telugu Desam Party led by former chief minister N Chandrababu Naidu in the next elections.
Interestingly, the Jana Sena chief has chosen Telangana to kickstart his campaign in Andhra Pradesh. He has decided to begin his yatra from Kondagattu in Jagitial district on January 24.
He would perform the special puja for his vehicle Vaarahi at Kondagattu, the abode of Lord Anjaneya, his favourite god. After that, he would hold a meeting with his fans and followers from Telangana.
Later, Pawan would go to Dharmapuri to worship Lord Lakshmi Narasimha, yet another powerful god. He would announce the name of his yatra at Dharmapuri.
"He is planning to take up "Anushtup Narasimha Yatra" in Telangana and Andhra and seek the blessings of the lion-god to give him strength," sources said.