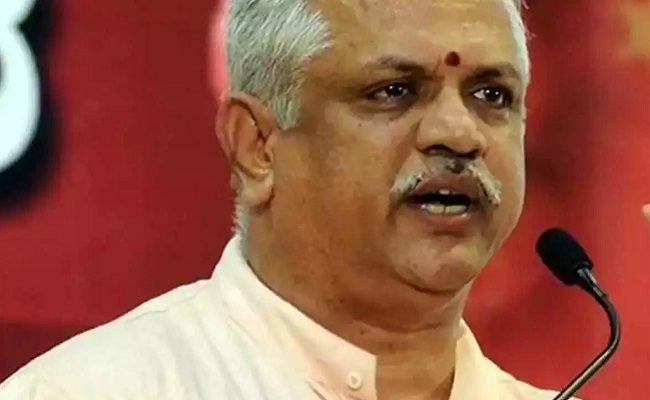 The special investigation team (SIT) of the Telangana police probing the alleged attempt to poach four Telangana Rashtra Samithi MLAs into the Bharatiya Janata Party, are learnt to have found clinching evidence about the role played by BJP national general secretary (organisation) B L Santosh.
According to sources, the SIT, with the help of the forensic experts, could decipher the WhatsApp conversation between Santosh and Ramachandra Bharati, one of the three accused in the case, who were arrested by the Cyberabad police on October 26.
Though what is there in the conversation is not immediately known, the fact that there was a direct connection between Santosh and the accused clearly showed that the BJP top leader was involved in the poaching attempt case.
"The evidence has been submitted to the court. It is only a matter of time that the conspiracy gets exposed. There is no way Santosh can escape and subsequently all the big heads in the BJP will be exposed," a TRS source said.
Senior advocate Dushyant Dave, who argued the case on behalf of the Telangana government in the court, said the attempt to purchase the TRS MLAs was a serious offence.
"If the BJP doesn't have any role, it should cooperate with the investigating officers. Why should the BJP leaders file petitions in the court challenging the investigation?" he asked.
He reminded that the BJP had pulled down several governments in the opposition-ruled stats like Maharashtra, Madhya Pradesh, Karnataka and Goa, by poaching the MLAs and shifting them to other states in flights.
"Even in the case of Telangana, the BJP has been trying to dilute the case right from the beginning," Dave said.