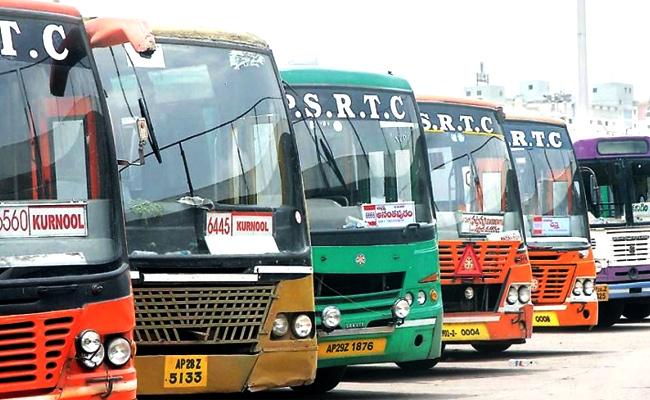 The order issued by Andhra Pradesh State Road Transport Corporation (APSRTC) managing director Madireddi Pratap withdrawing the services of nearly 7,600 outsourced employees on the pretext of financial crisis has landed the Y S Jagan Mohan Reddy government in an embarrassing situation.
Apparently, the RTC MD had issued the order without the knowledge of the government, hoping that he would take credit for saving money in the corporation.
But the protests from the RTC workers pushed the government to a corner, forcing transport minister Perni Nani to give a clarification.
Nani had a tough task in denying the reports. He said no outsourced employee was terminated from the service.
"Since the outsourced employees do not have life insurance cover, the RTC management asked only permanent employees to resume duties first once the restrictions are lifted," he said.
He made it clear that all the outsourced employees would continue as they are. He, however, said they could not be paid salaries due to financial crunch on account of Coronavirus threat.
Despite Nani's clarification, the employees say it was a fact that the outsourced employees were asked not to report to the duty from Friday. They are circulating a message from RTC MD to depot managers which read:
"We may use permanent employees for all duties due Covid situation and related financial crisis. Only after full utilisation of permanent employees, we may call any outsourcing/contract personnel for duties."
An office memo issued by the RTC MD on May 13 said since the corporation was planning to operate all buses without conductors, it would result in surplus conductors and they could be redeployed in place of outsourced employees whose services would be withdrawn.
Similarly, there are outsourced drivers in the RTC, who were running some buses and light vehicles, apart from doing parking duties. These outsourced drivers also would be withdrawn; in their places, surplus regular drivers could be deployed, the office memo said.
The employees' unions wonder whether permanent drivers and conductors would do the duty of sweepers, lift operators, mechanics in garages, typists and attenders, who are generally outsourced employees.
Unless the outsourced employees are allowed into the duties, there will be no takers for Perni Nani's assurances.