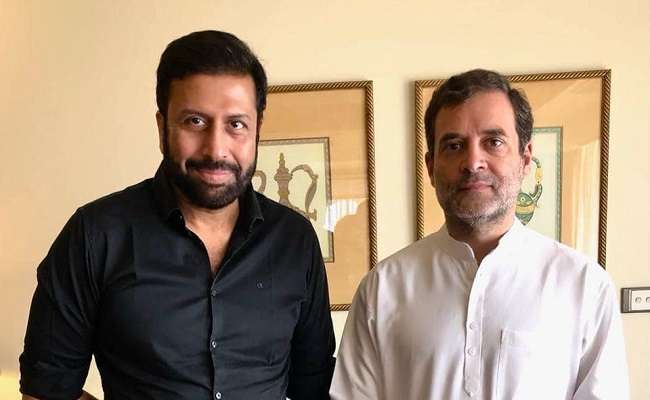 Senior journalist V Ravi Prakash, who had been in a virtual oblivion ever since he had been forced to quit as the director and chief executive officer (CEO) of popular Telugu television channel TV9, is back in the news.
On Saturday, Ravi Prakash met Congress leader and MP Rahul Gandhi at Hotel Kohinoor in Hyderabad and held one-on-one discussions with the latter for nearly 30 minutes.
There is no clarity as to what has transpired between the two, but the speculation is that he had explained the contemporary political situation in Telangana and Andhra Pradesh in general and media scenario in particular.
It is learnt Rahul Gandhi had specially invited Ravi Prakash to his residence in New Delhi and it might happen soon.
There is a talk that Ravi Prakash has shared his ideas with Rahul on how to tackle the TRS in the state and the strategies to be adopted to bring the Congress to power.
Interestingly, there were reports that Ravi Prakash tried to move closer to the Bharatiya Janata Party some time ago, but there was not much response from the BJP national leadership. It appears he has chosen to meet Rahul only after failing in his attempts to get closer to the BJP.
Ravi Prakash is presently waging a legal battle against the new management of the Associated Broadcasting Corporation Ltd (ABCL), the promoter of TV9, after his unceremonious exist a few years ago.
Later, he was arrested on the charges of forgery and cheating, but was released later. He has since been on bail and the case is still pending.