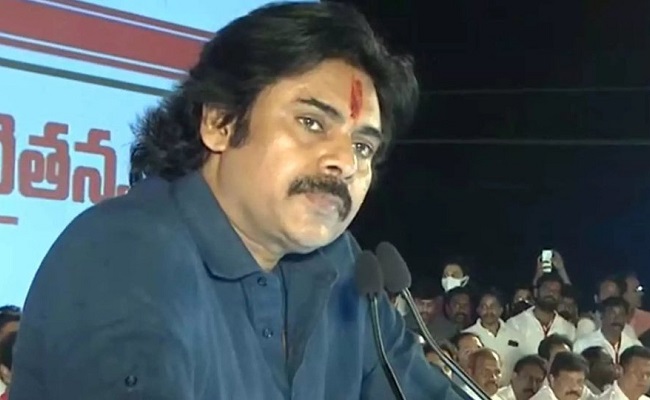 It appears Jana Sena Party chief and power star Pawan Kalyan is of the view that the best way to gain people's support and build a vote bank for his party in Andhra Pradesh is to pump money.
While political parties distribute money among the voters at the time of elections to buy their votes, Pawan Kalyan has apparently thought he could get into the hearts of aggrieved people by paying them money when they are in distress, instead of during the elections.
The Jana Sena Party chief has followed this strategy to attract the families of tenant farmers, who died by suicide due to distress in the last three years of Jagan Mohan Reddy government.
He distributed Rs 1 lakh each to the families of such tenant farmers. So far, he has covered over 500 farmers across different parts of the state; which means he spent nearly Rs 5 crore so far.
According to his party colleague Nadendla Manohar, nearly 3000 tenant farmers died by suicide during the YSRC regime. So, Pawan would be distributing nearly Rs 30 crore among their families.
On Tuesday, the Jana Sena Party chief announced distribution of Rs 1 lakh each to the families, whose houses were allegedly demolished by the Jagan government at Ippatam village of Guntur district as part of road widening.
Pawan made a big show in the village the other day and called on the affected families. He promised them to stand by them in the hour of distress.
"Very soon, Pawan Kalyan will visit the village again and distribute Rs 1 lakh each to those who lost their lives, as promised," Manohar said.
Nice gesture from Pawan; but if he goes on distributing money to various sections of people, he may have to spend all his earnings from films on garnering their support.
Maybe, he will also start a fund raising campaign on behalf of his party to come to the rescue of the families in distress, lest he will become bankrupt!