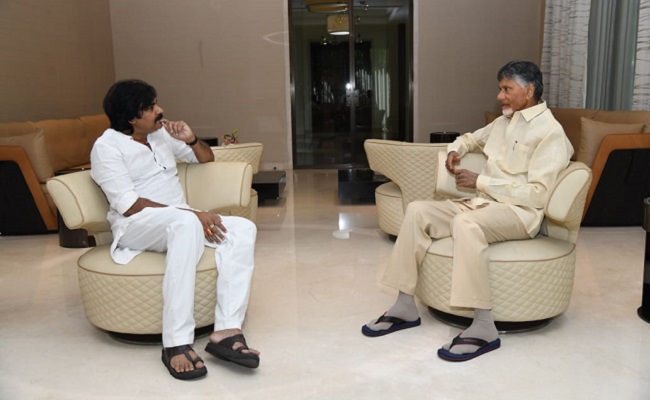 In yet another step towards a possible alliance between the Jana Sena Party and the Telugu Desam Party, power star Pawan Kalyan on Sunday drove down to TDP president N Chandrababu Naidu's residence in Hyderabad for a closed-door meeting.
Sources in the TDP said Pawan had come to meet Naidu to express solidarity with the latter in the wake of the severe restrictions imposed by the police during his three-day tour in Kuppam constituency in Chittoor district between January 4 and 6.
"It was a sort of reciprocating gesture by Pawan to call on Naidu, who had earlier met him in Vijayawada in October to express his solidarity with the power star who also faced similar police restrictions during his visit to Visakhapatnam for a rally," the party sources said.
However, analysts say there is more to Pawan meeting Naidu than what meets the eye.
Both the leaders are obviously discussing the latest government order brought in by the Jagan government to curtail political rallies, roadshows and road-side public meetings by the opposition parties.
This is in the wake of the proposed padayatra by Naidu's son Nara Lokesh from January 27 and Pawan Kalyan's "Varaahi" rath yatra soon.
They are said to be discussing what they should do if the Jagan government continues to impose restructions on these yatras.
At the same time, both the leaders are also expected to work out a joint strategy to fight against the Jagan government in the coming days.
The obvious modalities of an alliance between Jana Sena and the TDP would also be discussed at the meeting.
"Naidu and Pawan are expecting that there might be early elections in the state, at least six months ahead of schedule – most probably in November or December this year. So, the sooner they finalise the alliance issue the better, so that there would be clarity as to where they should contest," sources said.
There would be some clarity on the alliance, if Naidu and Pawan address any joint press conference after the meeting.