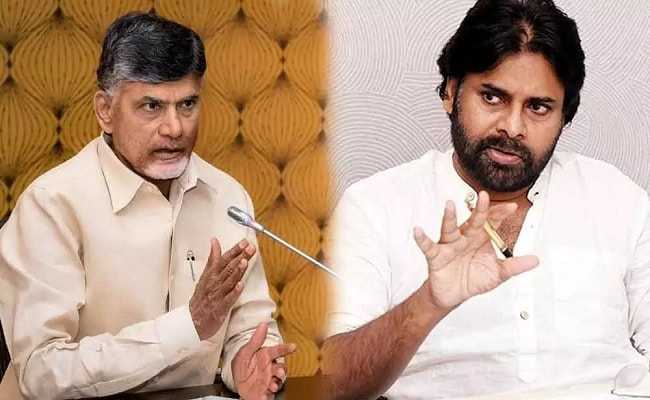 Though YSR Congress party president and chief minister Y S Jagan Mohan Reddy has openly saying that Telugu Desam Party president N Chandrababu Naidu and his "adopted son" Pawan Kalyan of Jana Sena Party are conspiring against him, both of them seem to be not in a hurry in forging alliance.
Apparently, both the parties are hoping that the Bharatiya Janata Party would change its mind and join hands with them to form a formidable alliance. So, they would like to wait for some more time before talking openly about the alliance.
In an interview to a news website, the TDP chief said he would decide on any kind of alliance with the BJP or actor-turned politician Pawan Kalyan's Jana Sena at the time of elections.
Stating that the TDP is a "reliable brand," Naidu said there was no hurry for any alliances.
"Alliance means both parties should be willing to work together. We had so many alliances in the past and all other parties like the Congress, too, had alliances. At the time of elections, we will decide. If people are with you, everybody will work with you," he said.
Naidu also refused to burn his fingers again on the national politics. Asked if he would agree to be part of the efforts to create an "anti-BJP front," which does not include the Congress, led by Telangana chief minister K Chandrasekhar Rao, the TDP chief did not evince interest.
"My focus is now on building Andhra Pradesh and I have my own agenda. I have another responsibility to build Andhra Pradesh. Sometimes, there are ups and downs. People will listen to you if you have credibility. We have history, we have done extremely well, people benefitted from it," he added.
Meanwhile, Pawan Kalyan's brother and Jana Sena leader Nagababu also said there was no need for any hurry in forging alliances.
"The party president will take a call on the alliances at an appropriate time. We are now focussing on building up the party organisation at all levels," he added.