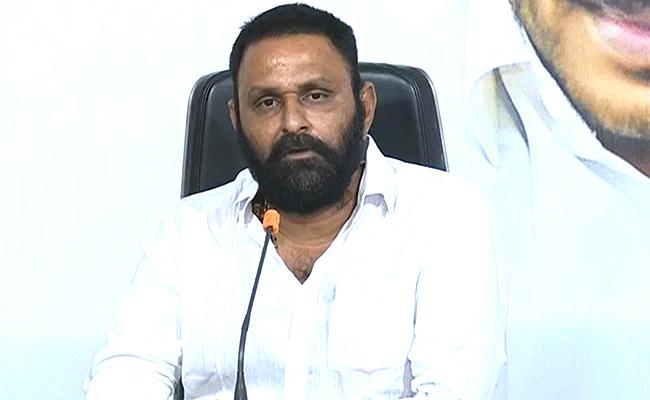 Almost all the team members in the cabinet of YSRCP president and Andhra Pradesh CM Y S Jagan Mohan Reddy have more or less been functioning in a decent and dignified manner so far.
They are restricting themselves to their respective departments and issuing media statements accordingly.
Even with regard to making political criticism against rivals like the Telugu Desam Party or Jana Sena, there are no instances of they crossing their limits.
But there are a couple of ministers like deputy chief minister Narayana Swamy, irrigation minister Anil Kumar, home minister M Sucharita and civil supplies minister Kodali Nani, who do not care for any decency or decorum while speaking in public.
Among this bunch of a few loud-mouth ministers, Kodali Nani stands apart in using choicest abuses against rivals, particularly TDP president N Chandrababu Naidu and his son Lokesh.
What is worse, he even makes controversial statements that often create embarrassment to Jagan and his government.
His latest comments on Hindu temples have kicked up a major controversy, drawing flak not only from opposition parties, but also the Hindu groups, who are already fretting against the Jagan government after the Antarvedi episode.
In an interview to a channel, Kodali found fault with the rule of declaration by non-Hindus in Tirumala before having darshan.
"Why should there be such a rule in Tirumala only? Will Tirumala lose its sanctity if a non-Hindu doesn't sign a declaration?" he asked.
He also criticised the parties and Hindu groups over their ruckus over the burning of chariot in Antarvedi or missing of silver horses in Vijayawada Kanakadurga temple.
"If the chariot is burnt, we can make a new chariot and if a silver idol is missing, we can buy a new one. Why should one make so much fuss?" he asked.
BJP state president Somu Veerraju lashed out at Nani for using objectionable language against temples and Tirumala rules.
"We should make an act restraining the politicians from making abusive comments against rivals and speak on issues that hurt the sentiments of others," he said.
Click Here for Latest Direct-to-OTT Releases (List Updates Daily)