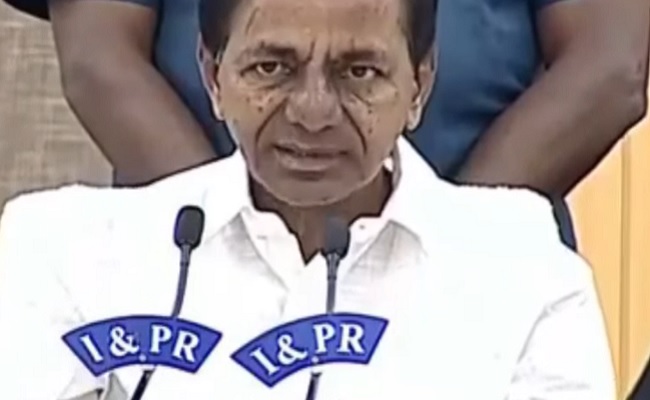 Telangana chief minister K Chandrasekhar Rao was at his ferocious best when he criticised a section of the media for spreading false news against the government in the crisis hours of corona.
KCR, without naming the media houses, hurled abuses for the false reports against the government and cursed them to suffer coronavirus.
"Some people are intentionally spreading false information. They don't know the facts and they don't have responsibility. Their intention is to blame the government. I wish such people fall victim to the corona virus," KCR said apologising for such a wish, but admitted that he was forced so.
"They (media) said that there are no (testing) kits. We (TS govt) have 40,000 kits readily available. What information they have to write such news? They also say that there is no protection to the doctors treating the corona positive cases. Who is providing protection? Is media providing protection to the doctors? What shit are they writing," KCR asked.
KCR is placed in better position in TS as far as the media campaign is concerned when compared to his counterpart in AP.
The media in AP is completely biased and is leading a campaign against the government. The media in AP has Opposition leader Chandrababu Naidu who also spreads bunch of lies all the time.
There is unity and there appears unwritten agreement between the TDP and the media in AP, stooping down to the lowest level in spreading campaign against the government.
Naidu, who always advocated positive projection of the State to attract investments when he was in power, is now always paints the state negative, not doing what he taught.
The media gives him the greatest advantage and that way KCR is placed in a better position.
KCR wanted the media to play responsible role in dealing with the epidemic and restraining from creating panic among the people.
Unfortunately, in AP both the media and the opposition party have only negative and scary news, most irresponsibly planted against the state and the government for political gains.
Click Here for Latest Direct-to-OTT Releases (List Updates Daily)