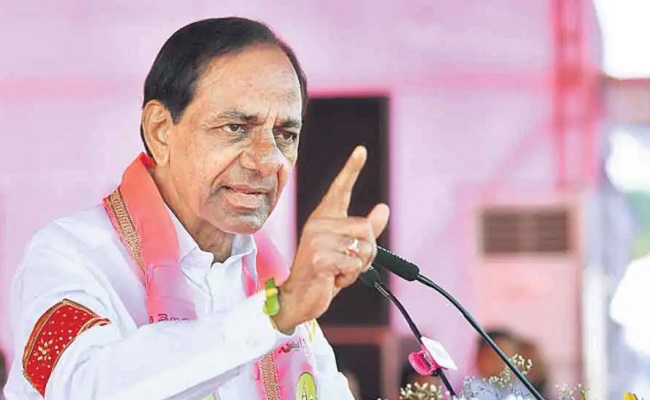 If people think Telugu Desam Party president and former Andhra Pradesh chief minister N Chandrababu Naidu is a master in gaining publicity with the help of his friendly media houses, his former colleague and Telangana Rashtra Samithi president K Chandrasekhar Rao seems to have mastered the art much more efficiently.
In a systematic way, KCR has been building up his image among the people across the country in the run-up to the launch of his national party to fulfil his national ambitions.
He made a present felt among the farming community across the country by extending support to their agitation against farm laws, participating in a dharna in their support in Delhi and providing financial assistance to the families of the deceased in the agitation.
As KCR gets ready to launch the national party in the next few hours, his party leaders are launching a massive publicity blitzkrieg. Hoardings and cut-outs of KCR are being erected in all the major cities in various states describing KCR as "desh ki neta."
Front page advertisements are learnt to have been booked in all the newspapers – regional and national – about the launch of the national party by KCR. The advertisements are expected to be pumped for at least three days.
Normally, many newspapers all over the country declare holiday on Dasara festival, so that there would be no newspaper the next day. So, when KCR launches the national party on Dasara, there would be no news about it the next day.
But KCR is learnt to have used his influence and see that the newspapers function on Dasara day, too, so as to give huge coverage to his new party. He is learnt to have offered to sponsor advertisement supplements to the dailies, which don't declare holiday on Dasara.
His party leaders have got a sand sculpture erected on the banks of Bay of Bengal at Puri in Odisha with the help of sand art specialist Sudershan Patnaik. This is aimed at generating a lot of talk among the people, so that his party will get nation wide publicity.
And by deciding to purchase a chartered flight of his own, KCR wants to make a whirlwind tour of various states to address meetings.
"This will also help him gain a huge publicity and raise curiosity among the people," sources said.