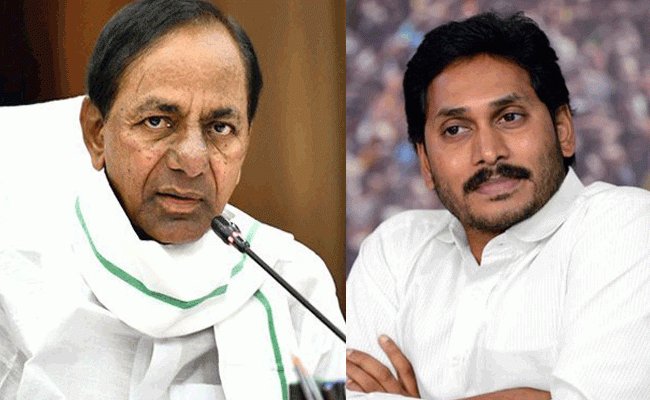 Telangana Rashtra Samithi president and chief minister K Chandrasekhar Rao has finally realised that the best way to safeguard his own government in the state was to follow the path of his Andhra Pradesh counterpart Y S Jagan Mohan Reddy.
Right from the beginning, Jagan has been adopting a firm stand on maintaining cordial relations with the Narendra Modi government at the Centre to get the maximum benefits to the state in the form of new projects, additional funds to the state and extensive support from the Centre to the state schemes.
Jagan has made it clear several times that he has absolutely no interest whatsoever in the national politics and his sole objective is to consolidate his party and the government in the state. As such, he has no issues with whichever party is in power at the Centre.
Despite being the fourth largest political party in Lok Sabha with 22 MPs, Jagan has never aspired for any big positions at the Centre. Though Modi invited his party into the NDA, he humbly rejected the offer. This has definitely enhanced his image at the national level.
Though the Bharatiya Janata Party has been nurturing ambitions of growing independently in Andhra Pradesh, Jagan is not unduly worried about it, as he enjoys good relations with Modi, Shah and others. Since he is no threat to the BJP at the national level, the central leadership has been adopting a soft approach towards him.
On other hand, KCR had hitherto been adopting a confrontationist stand towards the Modi government at the Centre. After enjoying power for over six years, he started nurturing the ambition of playing a role in the national politics.
He made an attempt to float federal front at the national level in 2019, but did not succeed, as BJP came back to power with massive mandate. Even recently, he announced revival of his attempts to bring all the anti-BJP forces together, but it also did not work out.
Naturally, the BJP central leadership has started looking at KCR as an enemy and tightening noose around him by digging out scams in various projects, particularly Kaleshwaram. This has made KCR go on the backfoot.
And the BJP's impressive show in Dubbak bypolls and GHMC elections virtually opened KCR's eyes. He realised that if he made any attempt to emerge as national leader, the BJP national leadership will use all its weapons against him and crush him.
So, the best way for KCR is to follow Jagan's path – maintaining friendly relationship with BJP central leadership and get adequate funds and projects to the state.
Let the TRS remain a regional party and does not raise its head to look up to Delhi. That would help him remain firm in Telangana!
Click Here for Latest Direct-to-OTT Releases (List Updates Daily)