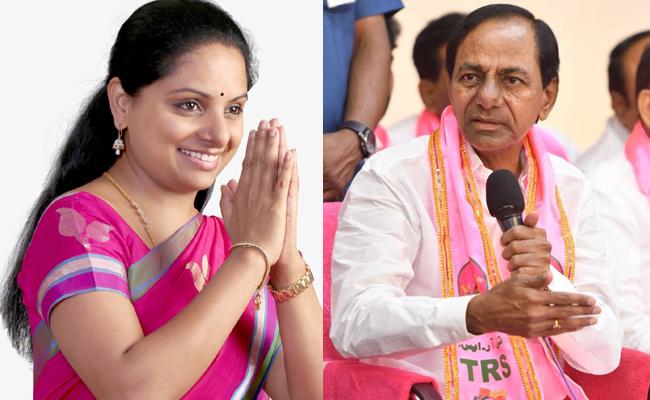 All said and done, the transformation of Telangana Rashtra Samithi (TRS) into Bharat Rashtra Samith (BRS) was a major milestone in the history of the party and everybody in the party was euphoric at the event held at Telangana Bhavan on Wednesday.
But not KCR's only daughter and legislative council member Kalvakuntla Kavitha.
While all the MLAs, MPs, MLCs and senior party leaders, including leaders from other states, were present at the meeting, Kavitha abstained from the historic meeting.
It is not immediately known whether she stayed away from the event on her own or was asked by her father not to come to the meeting. But her absence at the meeting was definitely a talk of the town.
Since it was a holiday for most of the media houses, Kavitha's absence at the meeting did not become a big news. But it will definitely be analysed by the newspapers on Friday.
Surprisingly, Kavitha did not even post a single tweet on the social media nor did she issue any statement welcoming the transformation of TRS into BRS or the entry of her father KCR into national politics.
This has led to a hush talk within the party circles that KCR has deliberately kept Kavitha at bay and she was sulking for being ignored. So, she chose to maintain silence over the new party or new development.
In fact, Kavitha had earlier been entrusted with the task of handling the national media.
She also travelled to New Delhi in the past along with her father and interacted with heads of various national media houses, talking about KCR's national political mission.
But, sources said, she was not taken into the loop when KCR was discussing with his party seniors over the formation of national party.
She was nowhere in the picture when he was holding meetings with other regional party leaders.
It is learnt KCR was not happy with Kavitha for not taking enough precautions to avoid her name being dragged into Delhi liquor policy scam.
He also pulled her up for attending the big debate with Andhra Jyothy managing director Vemuri Radhakrishna and failing to answer embarrassing questions.
Though Kavitha tried to put up a normal posture during the Bathukamma festivities, it was obvious that she was sulking.
Even on Dasara day, she tweeted about the puja she had performed at her residence, but refrained from making any comment on the national party.
Her picture was also nowhere seen in the hoardings put up by the party workers on the occasion of the launch of the national party. So, some trouble is brewing within the family!