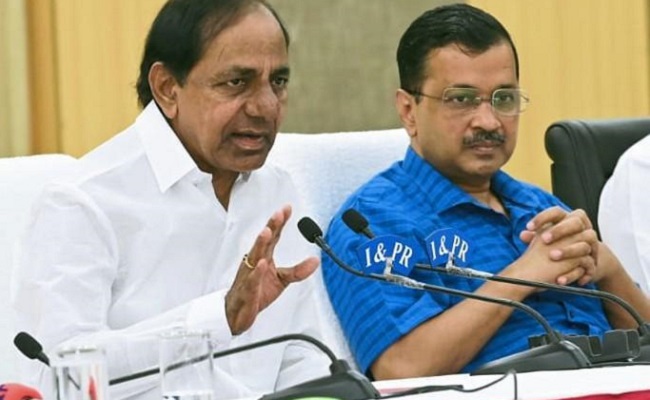 Telangana Chief Minister K Chandrashekar Rao, along with Delhi Chief Minister Arvind Kejriwal and Punjab CM Bhagwant Mann, held a joint press conference at Pragathi Bhavan in Hyderabad on Saturday.
Kejriwal and Mann visited Hyderabad seeking KCR's support to oppose the Centre's ordinance in the Rajya Sabha, which grants powers to the Delhi Lieutenant Governor on bureaucracy and service matters, contrary to the Supreme Court's judgment empowering the AAP government.
Following their meeting, the three CMs addressed the joint press conference. It has been six months since KCR last held a press conference, with the previous one held at Pragathi Bhavan on November 3, 2022, addressing BJP agents' attempt to purchase four BRS MLAs with the intention of toppling his government.
During the joint press conference on Saturday, KCR criticized the Narendra Modi-led BJP government at the Centre for disregarding the Supreme Court's judgment on Delhi bureaucracy and service matters. He condemned the government for introducing an ordinance within a week to nullify the Supreme Court's ruling.
KCR's remarks triggered a response from Telangana journalists on social media platforms, who questioned why KCR was criticizing Modi for not honoring the Supreme Court's judgment in Delhi when he himself was failing to implement the Supreme Court's order in Hyderabad.
They pointed out that the Supreme Court had directed the Telangana government in August 2022 to hand over house sites to journalists in Hyderabad, which were allotted by the Congress government in 2008.
Journalists emphasized that they had purchased land from the government in Hyderabad in 2008 at market prices prescribed by the government and had paid over Rs 12 crore to the state government in 2012. However, the Telangana government was refusing to hand over the land, despite the Supreme Court's directive.
Journalists raised concerns about KCR's credibility in pointing fingers at Modi for not honoring Supreme Court judgments when he himself was disregarding the court's orders in Hyderabad.
They criticized KCR as a "shameless CM" who openly utters lies in front of the national and local media without any shame or fear.