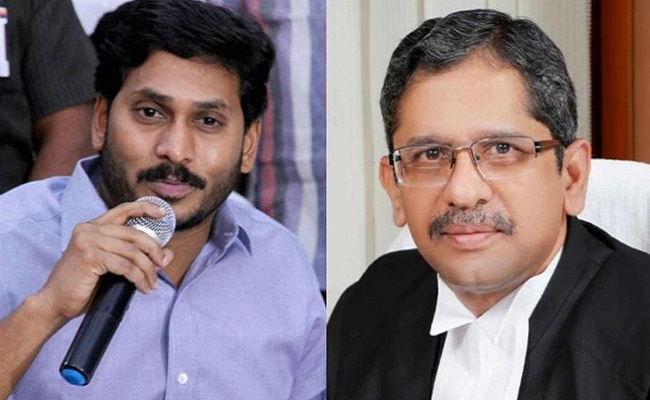 Finally, YSR Congress party president and Andhra Pradesh chief minister Y S Jagan Mohan Reddy will be meeting the person whom he had hated most till recently – Chief Justice of India N V Ramana – on Saturday evening.
Not only that, Jagan would be hosting a civic reception for Chief Justice Ramana on behalf of the state government at Tummalapalli Kalakshetram at Tummalapalli Kalakshetram in Vijayawada at 5 pm on Saturday. A Hi-Tea has been arranged for the delegates in the honour of the CJI.
According to sources, Jagan might have one-on-one meeting with Chief Justice Ramana after the civic reception. It has not yet been confirmed.
On Friday, the Jagan government also arranged huge welcome for Chief Justice Ramana on his arrival to his native village Ponnavolu in Krishna district.
Jagan deputed his senior minister Peddireddy Ramachandra Reddy, MLAs M Jaganmohan Rao and Vasantha Krishna Prasad and MLC M Arun Kumar to accord rousing reception to Ramana.
On Sunday, too, the chief minister would attend the Hi-Tea to be hosted by Governor Biswabhushan Harichandan at Raj Bhavan for the CJI.
This is for the first time that the chief minister would be meeting the Chief Justice of India. Though Justice Ramana came to Andhra Pradesh, earlier, too, and had darshan of Lord Venkateshwara in Tirumala, Jagan did not call on him.
It may be mentioned that Jagan had lodged a complaint with former chief justice of India S A Bobde against Justice Ramana, who was then a Supreme Court judge, alleging that the latter had conspired to pull down his government in Andhra Pradesh in collusion with Telugu Desam Party chief N Chandrababu Naidu.
Jagan had made several allegations against Justice Ramana then and even ordered a CID probe into the Amaravati land scam involving Ramana's daughters.
However, Justice Bobde, after due inquiry, dismissed Jagan's letter. The CID case into Amaravati land scam was also quashed.