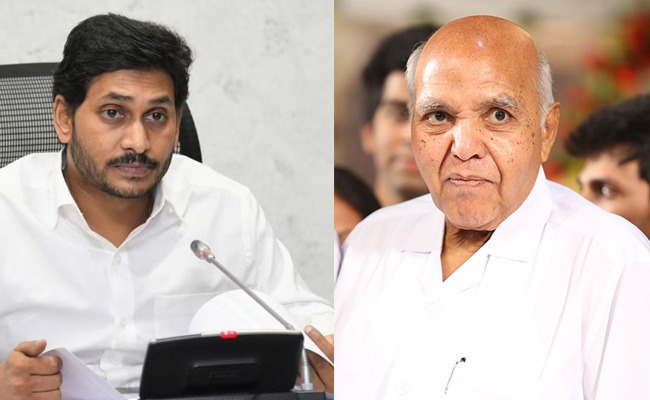 A few weeks ago, Chief Minister Y S Jagan Mohan Reddy had said that he is fighting with Eenadu and Ramoji Rao and not TDP and Chandrababu Naidu.
When he said that Eenadu is the rival for the YSR Congress, but not the TDP, some people wondered how could a newspaper fight a political battle!
But, it is becoming true if one follows Eenadu on a regular basis. The battle in 2024 would be between the YSR Congress and the Eenadu. It would be between Jagan Mohan Reddy and Ramoji Rao.
Today, Ramoji Rao dedicated his paper to counter Jagan Mohan Reddy's speech in the Assembly on Amaravati.
Usually, media reports what politicians say. The media's opinion comes in the editorial and not in other columns.
But, Eenadu, of late, is coming up with extended editorials in every column and today the entire paper is filled with editorial on Amaravati.
Besides all other issues that Ramoji Rao took time to counter Jagan, the population of Amaravati and the lands given by the farmers was explained by him in the front page.
Ramoji Rao said that Amaravati is part of Tadikonda SC reserved constituency and thus he tried to disprove Jagan, who said Amaravati is owned by Kammas.
He also said that a chief minister was spreading hatred among the people by attributing Amaravati to Kammas.
If it is so, if Amaravati belongs to everyone, and if Amaravati lands were given in pooling by everyone, why only one caste people are participating in the agitation, in the padayatra now?
Why only leaders of one caste, in whatever party they are, speaking about Amaravati now?
Chandrababu Naidu and his leaders in TDP, Y S Chowdary, Satyaprasad, Paturi Nagabhushanam in BJP, K Narayana in CPI, Ch Baburao in CPM are speaking for Amaravati. What caste all these leaders belong to?
The farmers have been holding protest in Mandadam village under a pandal for the past 1000 days. Who are the people sitting under the pandal? Are SCs, STs, BCs, Muslims of at least Mandadam village are taking part in the protest, leave alone people of 28 other villages!
Is it not a fact that one caste people have purchased lands in Amaravati and it is they who are holding protests and who are filing cases in the courts?
If the lands were purchased from the farmers, why Eenadu says that lands were given by the farmers of these 29 villages? Where are those buyers? Why is Ramoji Rao silent on those who purchased lands?
Why is Eenadu waging a political battle against Jagan, if not to protect the interests of the Kammas in Amaravati?
Let Eenadu publish the names of those who purchased the lands and on whose names the same lands were given to the government under the land pooling scheme, if it has to be believed.
Yes, it is now the 2024 elections are going to be held between the YSR Congress and Eenadu, between Jagan Mohan Reddy and Ramoji Rao.