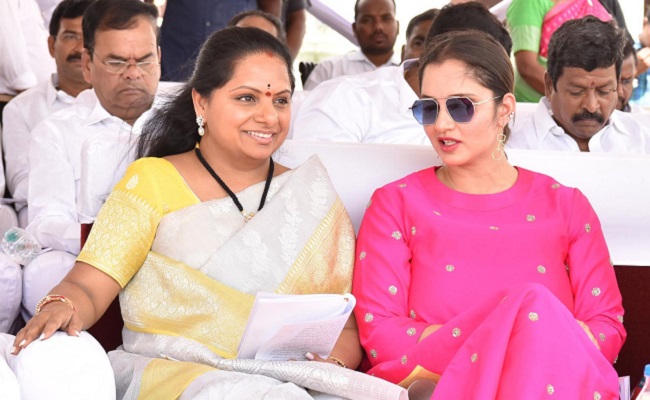 Tennis star Sania Mirza made a surprising public appearance at the 10th formation day celebrations of Telangana State held on Friday at the new Telangana Secretariat in Hyderabad.
Sania was seen seated in the VIP gallery alongside Kalvakuntla Kavitha, the daughter of Telangana Chief Minister K Chandrashekar Rao.
Sania sported stylish attire and goggles, capturing the attention of media, political leaders, and officials present at the event.
Sania's presence has sparked a debate in political and media circles regarding her current status as the 'brand ambassador' of Telangana State.
After assuming office as the CM of Telangana in June 2014, KCR appointed Sania Mirza as the brand ambassador of Telangana in July 2014 to promote the state in India and abroad. Additionally, KCR presented her with a cheque worth Rs 1 crore for this purpose.
However, it remains unclear what Sania has done to promote Telangana over the past nine years. The status of her role as the brand ambassador of Telangana is also not clear.
Nonetheless, Sania's sudden appearance at the official program of the Telangana government on Friday has sparked rumors that she may still hold the position of brand ambassador.
During her visit, Sania toured the lobbies of the new Telangana Secretariat and posed for pictures with IAS officer Smitha Sabharwal, who serves as the secretary to CM KCR, as well as a few other women IAS officers. These pictures of Sania quickly went viral on social media platforms.