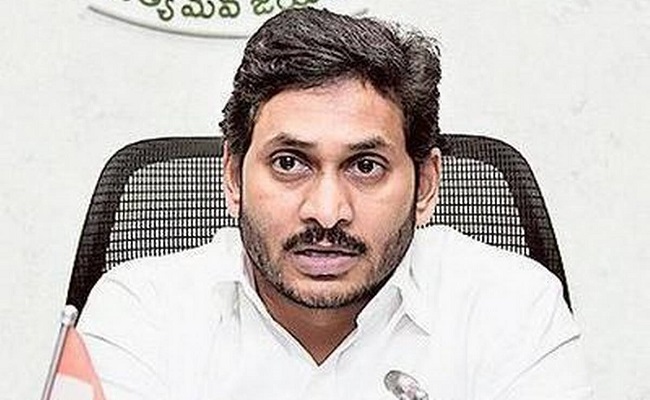 Andhra Pradesh chief minister and YSR Congress President Y.S. Jagan Mohan Reddy seems to be a worried man these days.
His men have made him taste defeat in the three Graduate Constituency MLC elections, which were held last week.
The defeat was too bitter for Jagan Mohan Reddy to swallow as he was riding high on the victory mode with all his cash transfer schemes.
The more worrying event for him now is the MLC election from the Assembly quota.
Jagan had already named seven candidates for the seven MLC seats. Giving him a rude shock, the opposition TDP fielded its candidate, posing a real threat to Jagan to get his seventh candidate to win the election.
The defeat in this election, if it happens, would come in handy for the yellow party and the yellow media to campaign against Jagan.
They are already campaigning that the downfall for Jagan has started with his defeat in the Graduate MLC elections.
Under these circumstances, Jagan Mohan Reddy had held three rounds of mock voting for his MLAs in the Assembly.
It was found that four MLAs have cast invalid votes, giving Jagan a tough time.
Jagan had distributed 22 MLAs to each of the seven candidates - 151 from his party, four rebels from the TDP, and one from the Jana Sena.
However, YSRCP MLA Kotamreddy Sridhar Reddy will not vote for the YSRCP candidates and would certainly vote for the TDP.
Similarly, there are at least four dissident MLAs in the team who are likely to cast an invalid vote.
If four votes go invalid, then the YSRCP seventh candidate would lose the battle to the TDP, which would have 20 MLAs, including Kotamreddy Sridhar Reddy.
With this threat, Jagan had called for a dinner meeting with his MLAs on Wednesday, where he is likely to keep them until the voting is over on Thursday.
He had also kept at least three ministers for each of the 22 MLA teams and had attached them to each of the seven candidates.
It remains to be seen what these black sheep MLAs would do to Jagan when they cast their vote.