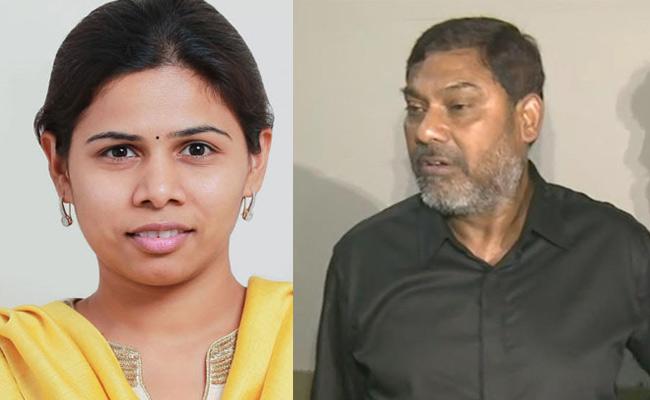 Ever since former MP Bhuma Nagi Reddy of Allagadda in Kurnool district of Andhra Pradesh died of heart attack, there have been differences between his daughter Bhuma Akhila Priya and another TDP leader from Allagadda A V Subba Reddy.
In fact, Subba Reddy had been the trusted lieutenant of Bhuma family. So, it raised many an eyebrow when he turned a bitter rival of Akhila Priya and other family members of Bhuma family. Though TDP president N Chandrababu Naidu tried to bring about a compromise between the two, it did not work out.
Everybody thought the reason for the rivalry was mainly political. This is because, Subba Reddy wanted to contest the elections from Nandyal after the death of Nagi Reddy, but Akhila Priya pitched for her cousin Bhuma Brahmananda Reddy to contest the elections in order to keep hold over Nandyal, too. She got him the ticket and won the seat.
This angered Subba Reddy and since then, he had been nursed a grouse against her. He even went to the extent of filing a criminal case against Akhila saying she had engaged hired assassins to kill him.
However, these are all superficial reasons. According to sources, the main reason for the bitter rivalry between Subba Reddy and Akhila family was attributed to dispute over property dealings.
There were rumours that he was, in fact, a benami for the properties of Nagi Reddy and his family members. Akhila Priya, being very young member of the family, might not be aware of what extent Subba Reddy was in control of her father's properties.
Later, when she came to know that Subba Reddy had owned up many of Nagi Reddy's properties, she started bringing pressure on her to return the same.
"The biggest among such properties in control of Nagi Reddy is Hafeezpet land, whose value is believed to be more than Rs 2,000 crore in the present market value," sources said.
Now that Akhila Priya landed in jail, the issue has come to light. The only way left for her family to wriggle out of the case is get into a compromise with Subba Reddy, so that they would bury the differences and prevent the rival YSRC leaders usurp their common properties.
While her political supporters are doing extensive lobbying in Hyderabad to secure her bail, her sister Mounika Reddy is learnt to have begun efforts to compromise with Subba Reddy. She went to Allagadda a couple of days ago and is learnt to have begun making efforts in that direction.
It remains to be seen how far this compromise work out and things would get normal for Akhila's family.
Click Here for Latest Direct-to-OTT Releases (List Updates Daily)