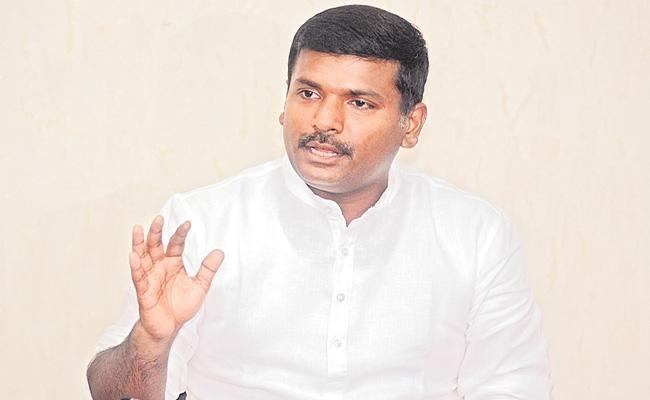 Andhra Pradesh industries minister Gudivada Amarnath's overenthusiasm over the proposed Global Investors' Summit might land chief minister Y S Jagan Mohan Reddy in an embarrassing situation, say reports in a section of media.
Amarnath, who is backed by some equally overenthusiastic IAS officers, has been giving a lot of hype about the GIS, scheduled to be held in the first week of March aimed at attracting investors from different parts of the world to Andhra Pradesh.
Amarnath and the IAS officers running after him have told the media that the list of participants for the GIS includes who's who of industrial bigwigs across the globe.
They include Apple CEO Tim Cook, Tesla CEO Elon Musk, Google CEO Sundar Pichai, and Microsoft CEO Satya Nadella.
"This is an unnecessary hype. There is a difference between inviting the global heads of top companies and their acceptance of participation in the summit. If they don't turn up, it will be a major embarrassment to Jagan and the state government as a whole," a YSRC leader observed.
Though Prime Minister Narendra Modi has reportedly agreed to inaugurate the summit because of his good relations with Jagan, there is no confirmation yet from any of the top investors for the summit so far.
"Even the Prime Minister's visit has not been finalised, because of the elections in some states," sources said.
Amarnath and senior officials of the industries department also claimed to the media that 15 Union ministers, 15 chief ministers, 44 global industrialists, and 53 Indian industry bigwigs, besides ambassadors of several countries would attend.
The Indian industry bigwigs include Mukesh Ambani, Gautam Adani, Anand Mahindra, Kumar Mangalam Birla, Adi Godrej, Rishad Premji of Wipro, and N Chandrasekaran of Tata Son, among others.
"It would have been ideal if the minister and the department released the list of participants only after securing their confirmation. It is impossible to attract so many big industrialists and investors at a time," the YSRC leader said.