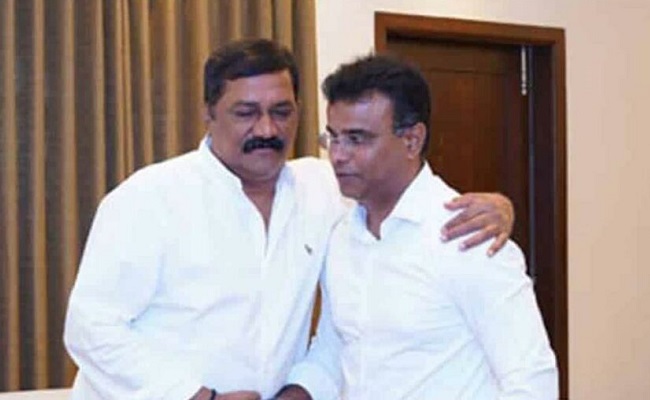 The sudden meeting of Bharat Rashtra Samithi leader and Qutbullapur MLA K P Vivekananda with Telugu Desam Party legislator Ganta Srinivasa Rao and former Central Bureau of India joint director V V Lakshminarayana in Visakhapatnam on Thursday has led to an interesting talk in political circles.
Though JD said there was no political significance to the meeting and that he had met Vivekananda at a function in Visakhapatnam and had invited him for breakfast, the speculations were flying thick and high.
Vivekananda, who hails from Gowda community, has absolutely no links in the past either with the former CBI joint director or Ganta, who represents Visakhapatnam (north) assembly constituency. Yet, JD and Ganta held discussions with him for more than an hour.
This has naturally let to the speculations as to whether Vivekananda had come to Visakhapatnam to meet these two leaders on behalf of BRS president and Telangana chief minister K Chandrasekhar Rao to throw a bait before them for luring them into the BRS.
It is an open secret that KCR has been targeting the Kapu and Velama communities in Andhra and lure as many leaders as possible from these communities into the BRS.
KCR has appointed a Kapu leader, former IAS officer, Thota Chandrasekhar as its AP unit chief. Another Kapu leader Chintala Pardhasaradhy, also a former bureaucrat, joined the BRS.
Sources said it was yet another effort by the BRS to bring Kapu leaders together after the recent meeting of BJP senior leader Kanna Lakshminarayana with Ganta with Thota in Hyderabad.
Vivekananda reportedly conveyed the message of KCR to JD and Ganta that the BRS would be interested in having intellectuals like them in the BRS and that he would make every effort to see that a Kapu leader would become the next chief minister in AP.
There is also a talk that KCR had sent an invitation to these two leaders through Vivekananda, requesting them to attend the proposed public meeting in Visakhapatnam sometime later this month.
But one wonders whether Ganta and JD would take the bait of KCR and join the BRS. It was only recently that Ganta clarified his position saying he would stay back with the Telugu Desam Party. But with leaders like Ch Ayyanna Patrudu putting up a stiff resistance to Ganta, the latter might consider the BRS a safe bet, say sources.
At the same time, the former IPS officer, who had quit Jana Sena Party after unsuccessfully contesting the Visakhapatnam Lok Sabha seat in 2019 elections, has no party of his own. He needs a platform to contest the elections and so, there is no surprise if he tilts towards the BRS.
But sources said it is highly unlikely that Ganta and JD would take any immediate decisions.
"They would take a call after watching the performance of the BRS in the next assembly elections in Telangana," sources added