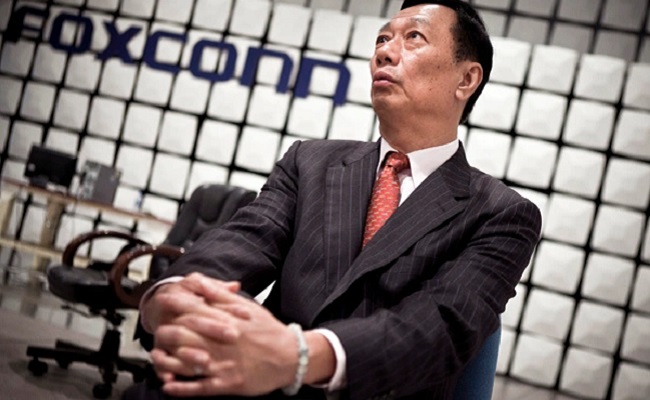 The Telangana government is on cloud nine over the letter written by Taiwanese multinational electronics giant Foxconn Technology Group (Hon Hai Precision Industry Company Ltd) Chairman Young Liu to Chief Minister K. Chandrasekhar Rao on Monday, confirming the establishment of its manufacturing facility at Kongara Kalan on the outskirts of Hyderabad.
Interestingly, at the same time, the Karnataka government has also released a letter to the media in Bengaluru, purported to have been written by Liu to its Chief Minister Baswaraj Bommai, stating that his company would be setting up its facility at Yelahanka in Bengaluru.
This has led to confusion as to whether the Foxconn chief is playing a double game with Telangana and Karnataka or whether somebody else has fabricated the letters in the name of Foxconn to fool the two chief ministers.
In a letter written to Telangana Chief Minister K. Chandrasekhar Rao, the Foxconn Chairman said his company was committed to setting up a manufacturing facility at Kongara Kalan. He sought the support of Telangana government's team in operationalizing the Kongar Kalan Park as early as possible.
On March 2, the Telangana government claimed to have inked a pact with the Foxconn chief for the establishment of its facility in Hyderabad that would provide one lakh jobs directly and indirectly over a period of ten years.
On March 4, the Karnataka government also made a similar claim, stating that the electronics major, the original equipment manufacturer for Apple and several other electronics and mobile companies, would make a $700 million investment in its new plant near the international airport at Bengaluru.
After a meeting with Liu, Karnataka Chief Minister Baswaraj Bommai tweeted: "Agreement signed with Foxconn, leading electronics major, to make a major investment in the state after a detailed discussion with the co's C'man Young Liu. It is expected to create one lakh jobs. Three hundred acres of land near Bengaluru Int. airport allocated (sic)."
In his letter supposedly written to Bommai on Monday, Liu said he is "confident" that the proposed 300-acre project at the Information Technology Investment Region, near the Bengaluru International Airport, "will lay a strong foundation" for Foxconn to consider basing several other projects in the state. This could "span mechanical and precision machinery, electric vehicle, IC Design and semiconductor segments," for which the global contract manufacturer could "consider your state as a potential investment destination," he wrote.
Interestingly, Foxconn issued a statement three days ago that no deals had been finalized during Chairman and CEO Young Liu's visit to India from February 27 to March 4.
"Foxconn has not entered into binding, definitive agreements for new investments during this trip. Negotiations and internal review are ongoing. Financial investment sums discussed in the media are not information being released by Foxconn."
It added that the employment figures being reported "do not equate to direct jobs" with the company.
So, why did he write separate and similar letters to Karnataka and Telangana? Well, let us see what the Foxconn chief will say now.