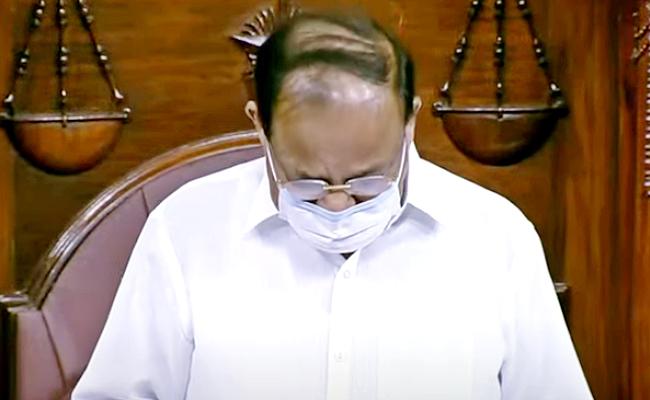 If the reports coming from New Delhi are to be believed, Vice President of India M Venkaiah Naidu would soon be forced to retire from active politics, after the end of his term in August.
BJP top leaders, including Union ministers Amit Shah and Rajnath Singh and party national president J P Nadda, who met Venkaiah at his residence on June 21, reportedly told him that he might not be re-nominated to the Vice President post again.
They, however, assured him that he would be "suitably" rewarded for his service to the party and the nation.
Indications that Venkaiah would be included in the team of BJP's margadarshak mandal (advisory council) that comprises veterans like L K Advani, Murli Manohar Joshi, Sumitra Mahajan etc.
In a way, it would be a virtual retirement for Venkaiah, who will never adorn any other smaller post after having held the position of Vice-President of India. Since advisory council is just a nominal body, he will have little say in the policy decisions of the party.
Sources said as per the policy of the BJP, those who have crossed 75 years won't be given a chance to contest the general elections and hence, cannot have any active role in the party. They are, however, suitable for the President and Vice-President posts.
But Venkaiah is only 72 now and he still has three years' active political life as per the party norms. But the party chose to keep him away from active politics when he was still 67 years old.
Now that he has already been the Vice-President of India and has not been nominated for the President's post, there is no other post he can hold now. He cannot be given Rajya Sabha seat or a Lok Sabha seat again.
So, it is an end of the road for Venkaiah's political life. This is said to have upset him a lot and he feels he was let down by the party.
What upset him more was that Prime Minister Narendra Modi did not even speak to him while announcing the candidature of Droupadi Murmu for the Presidential post.
So, what will Venkaiah do now? Sources said he has no option but to quietly opt out of politics and confine himself to writing books or associate himself with his social activities of Swarna Bharati Trust.