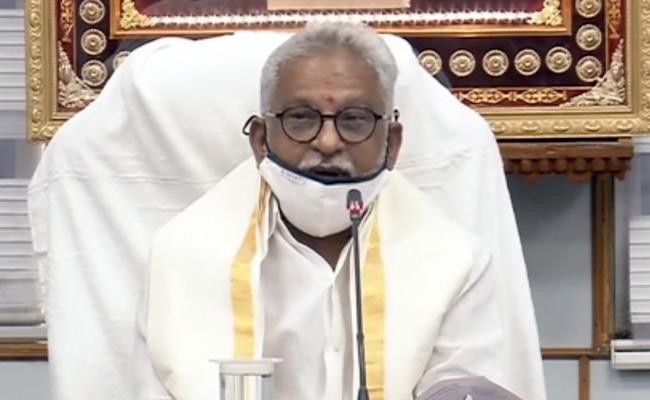 TTD chairman Y V Subba Reddy is likely to get into AP cabinet if the talk of Tadepalli is to be believed.
Subba Reddy's term as the TTD chairman is ending by June-end and it is likely that the government may not re-nominate him or extend his term.
Sources say that Subba Reddy, who is close to chief minister Y S Jagan Mohan Reddy's family is interested in getting back to the Parliament.
As he could not contest the 2019 general elections, he had set his eyes on Rajya Sabha seat.
However, Jagan Mohan Reddy did not give him the chance to go to Rajya Sabha, watering down Subba Reddy's aspirations.
Now, with first half of the Jagan Mohan Reddy government's term is ending in December this year, the chief minister plans to re-organise his cabinet dropping some of the inactive ministers.
In this re-shuffle, it is said that Subba Reddy would find a place. But, before that he is likely to be elected to the Legislative Council.
There are three MLC posts which fell vacant in the Assembly quota this month, which were postponed by the Election Commission due to covid 19.
It is likely that the Election Commission would hold these elections either in July or August.
Once Subba Reddy is made MLC, Jagan Mohan Reddy wants to take him into the Cabinet, dropping Balineni Srinivasa Reddy, who is representing Prakasam district.
Sources say, that Subba Reddy is mounting pressure on Jagan to get into the Cabinet and his dream is likely to be fulfilled once Jagan takes up the Cabinet re-shuffle.