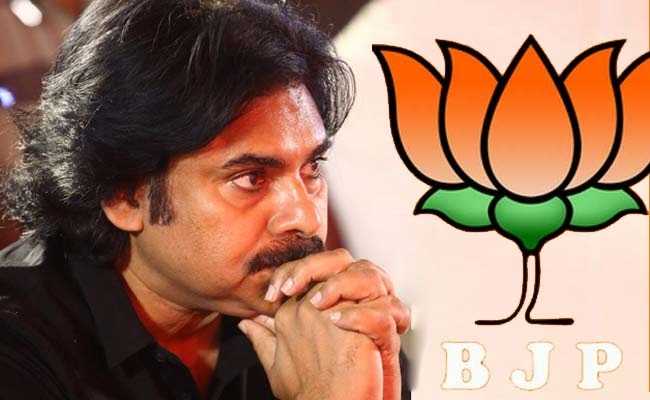 It has been nearly 10 days since power star and Jana Sena Party chief Pawan Kalyan had a meeting with Prime Minister Narendra Modi at INS Chola guesthouse at Visakhapatnam.
Though it is not exactly known what transpired between Pawan Kalyan and Modi at the meeting, the general impression among the political circles is that the Prime Minister had advised the actor not to take a hasty decision with regard to an alliance with the Telugu Desam Party.
Modi reportedly told Pawan to continue the alliance with the BJP and or go alone in the next elections in Andhra Pradesh.
He assured that the saffron party and the Centre would stand by Pawan in all his efforts, so that he would be the front runner for power in 2029 elections, if not immediately in the next elections.
After his meeting with Modi, Pawan has virtually gone into a silent mode with regard to alliances, though he continued to make attacks on the Jagan Mohan Reddy government in the state. But he is said to be in a dilemma as to whether he should go by Modi's advice or his own conscience.
Realising that the power star is still in two minds in continuing the alliance with the BJP, the Delhi leaders are learnt to be trying to bring pressure on Pawan through his elder brother – megastar Chiranjeevi.
The selection of Chiranjeevi as the "Indian Film Personality of the Year-2022" by the Modi government at the 52nd International Film Festival of India this year is said to be part of the strategy.
The announcement made by Union Minister of Information and Broadcasting Minister Anurag Thakur and personal congratulatory message by Modi himself has taken the megastar to the cloud nine. Obviously, Pawan could not resist from congratulating his elder brother and said Chiranjeevi was his inspiration.
It is also not a coincidence that Chiranjeevi made a comment on politics on Sunday. He said though a sensitive person like him might not be suitable for politics, his brother Pawan Kalyan has that quality of attacking his rivals and receiving the attacks from the rivals.
He wished that Pawan Kalyan would "one day" achieve his goal of making it big in politics.
"It appears to be a sort of pressure tactics to appease the mega brothers to go with the BJP," an analyst said.