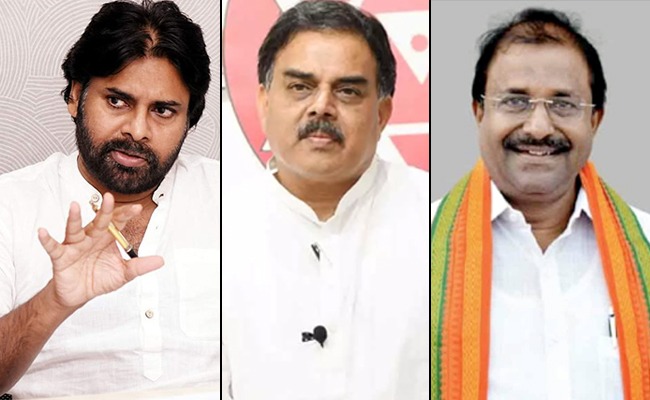 A strange observation has been made in Andhra Pradesh politics these days.
Surprisingly and shockingly, several active voices have suddenly become passive voices or rather muted.
The first among such muted voices is that of BJP Andhra Pradesh president Somu Veerraju.
From the day one of his appointment, Veerraju had been active and vociferous. He met several top leaders, addressed several media conferences, travelled extensively and spoke on every issue that is connected with Andhra Pradesh.
But, after the Tirupati Lok Sabha by-election, his voice is muted. His movements are restricted. In all he is silent.
The second prominent leader to go into silent mode is Jana Sena chief Pawan Kalyan.
Though he had come out of the Covid 19 positive report, he continues to be silent these days.
The Jana Sena is heard or rather read only on twitter and some press releases sent daily to the media.
He is not heard these days for reasons best known to him. No issue in the recent past had made him to unmute his voice.
The third leader to fall in this line is Nadendla Manohar. The number-two in Jana Sena, Manohar used to appear before the media or along with Somu Veerraju till the Tirupati bye-election.
However, Manohar too is muted for some reasons, not known to the media yet.
What made these top leaders to go into silent mode suddenly and who muted them is a big question doing rounds in Andhra Pradesh.
Is it because they found that their active and loud voices are not heard in Andhra Pradesh?
Is it because elections in AP are two-and-a-half years away from now and there is no point in wasting their energy at this point of time?
Or is it some external force that muted their voices and clipped their movements in Andhra Pradesh politics?