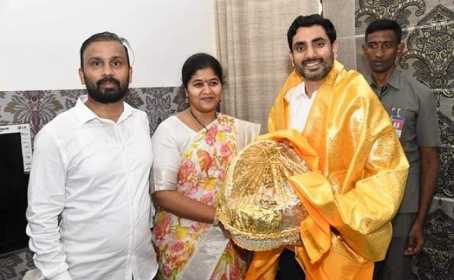 It is often said there are no permanent foes or friends in politics. A leader belonging to a political party, who abuses the opposition party in strongest words, might join the same opposition party later, if he thinks it would benefit him politically.
Former minister and senior YSR Congress party legislator from Nellore Anam Ramnarayan Reddy also falls into this category of politicians who jump into rival parties whenever it suits them.
For quite some time, Anam has not been feeling comfortable in the YSR Congress party, which he had joined in before 2019 elections and got elected from Venkatagiri constituency, leaving his original constituency Atmakur.
Now, it appears he is planning to return to the Telugu Desam Party, which rehabilitated him politically after the Congress party was wiped out in the state post-bifurcation of combined Andhra Pradesh.
As a first step, it is learnt Anam is planning to send his daughter Kausalya Reddy into the TDP first and maybe in the next step, he might jump into the party.
On Saturday, Kaivalya Reddy met with TDP general secretary Nara Lokesh at TDP's biennial conclave Mahanadu being held at Ongole.
Sources said she had requested Lokesh to give her a chance to fight the forthcoming by-elections to Atmakur assembly constituency, which was earlier represented by her father Ramanarayan Reddy.
She is learnt to have asked for the TDP ticket to fight the by-elections, which are necessitated by the sudden death of sitting MLA and former minister Mekapati Gautam Reddy. The by-elections are scheduled to be held on June 23.
The TDP has not taken any decision yet on fielding its candidate in the Atmakur by-polls, as it has a policy of not contesting the elections if any family member of the deceased MLA contests.
The YSR Congress party is likely to field Mekapati Vikram Reddy, brother of the deceased MLA.
However, if the TDP feels there is a chance to win the bypoll, it might give the ticket to Kausalya Reddy as Anam family has a strong support base in Atmakur. The final call will be taken by Naidu shortly, sources said.
Once a dominating political force in Nellore district during the Congress party regime, Anam has been feeling sidelined in the YSRC with chief minister Y S Jagan Mohan Reddy giving importance to younger leaders like Kakani Goverdhan Reddy and P Anil Kumar Yadav.
On many occasions, Anam openly expressed his resentment over the state of affairs in the party. He even took up a relay hunger strike at Rapur since Thursday, against the alleged unilateral decision of the Jagan government on the reorganisation of the district.
Anam protested against the merger of Rapur, Kaluvoya and Sydapuram mandals with the proposed Sri Balaji district separating from Nellore.
He felt that merging of key areas of Venkatagiri constituency into Sri Balaji district would create problems for the constituency, which he represents in the state assembly.