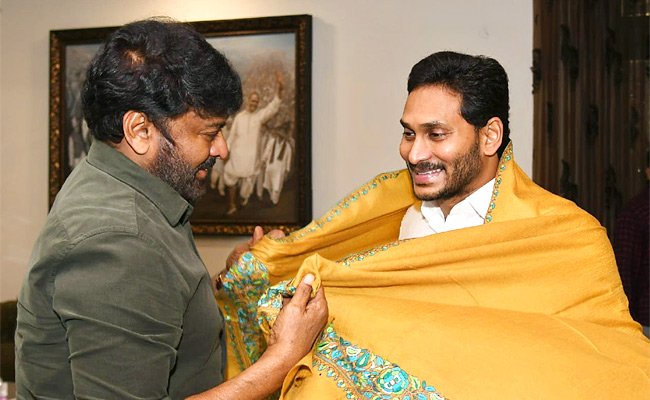 The meeting between Andhra Pradesh chief minister Y S Jagan Mohan Reddy with Tollywood megastar Chiranjeevi over lunch at the former's Tadepalli residence has caused a lot of jubilation among the YSR Congress party leaders.
Though the meeting was essentially to discuss the problems confronting the Telugu film industry, the ruling YSRC leaders are said to be of the view that the meeting also has its own political significance.
"The meeting will definitely send a strong message to Chiranjeevi's younger brother and power star Pawan Kalyan, who has been losing no opportunity in attacking the Jagan Mohan Reddy government and contemplating a tie-up with the Telugu Desam Party in the next elections," a senior YSRC leader observed.
The luncheon meeting between Jagan and Chiranjeevi also established a bonhomie between them, as both of them showered praises on each other.
Chiranjeevi's comments at the post-meeting interaction with media that Jagan had treated him like a brother showed that that there is more to it than mere courtesy.
The way Jagan personally received the megastar and calling him "Acharya," and treated him with a lot of respect all through the meeting and the way his wife Bharati personally serving food to him indicated that Jagan has completely floored the megastar so much that the latter would never take up an anti-Jagan stand in future.
That is why leaders like YSRC spokesman Ambati Rambabu indicated that Jagan's plan to divide the mega family, at least politically, is working out. He openly said the younger brother should learn from his elder brother on how to handle issues.
Even a die-hard critic of the mega family like firebrand MLA from Nagari constituency R K Roja was lot of praise for Chiranjeevi holding a meeting with Jagan on Tollywood inssues.
"It is a very good development. If Jagan feels that the demands of the film industry are justified, he would definitely do justice to them. Chiranjeevi explained the problems of the industry and Jagan had a look at them in a positive way. It is not correct to make provocative statements," she said.
The YSRC leaders are of the view that the bonhomie between Chiranjeevi and Jagan would definitely fetch a lot of mileage to the ruling party in the coming days.