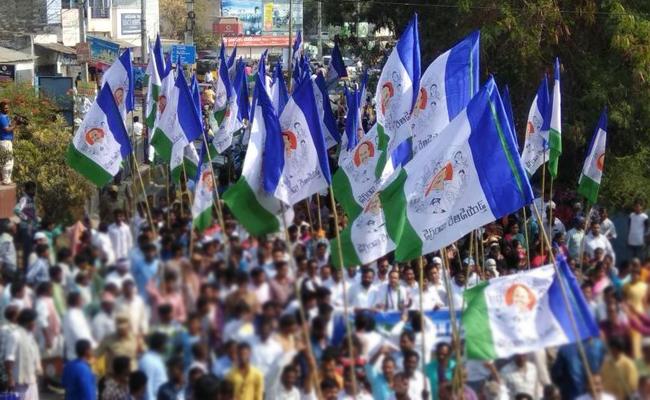 In a record of sorts, the ruling YSR Congress party leaders, including ministers and MLAs, on Saturday held press conferences simultaneously in all the 175 assembly constituencies to attack Telugu Desam Party president N Chandrababu Naidu.
The YSRC leaders came down heavily on Naidu for his aggressive posture and hurling of abuses at the joint action committee leaders in Kurnool, who questioned him about his stand on three capitals, particularly about the location of judicial capital at Kurnool.
The YSRC leaders alleged that Naidu was obviously perturbed by success of the welfare schemes of the Jagan Mohan Reddy government and hence used derogatory language against the chief minister.
"In a way, he had abused voters in a state of frustration," a YSR Congress party leader said.
Right from YSRC general secretary and advisor (public affairs) Sajjala Ramakrishna Reddy to ministers and MLAs addressed the press conferences simultaneously covering all the 175 assembly constituencies.
The YSRC leaders asked whether Naidu had the guts to make a public statement in Visakhapatnam, saying he did not want the capital city at the port city.
"The entire people of the state are in support of the three capitals. In 2024, the people will give him a permanent send-off," said SC Welfare Minister Meruga Nagarjuna at Vemuru.
The unanimous message which has shared by the YSRCP was that Chandrababu Naidu was perturbed to see public support for CM Jagan Mohan Reddy.
"He is frustrated with the reach and success of the welfare schemes. He cannot digest the fact that development is happening across the state. And that is why now he is using all kinds of tactics to keep himself relevant," another MLA said.
"YSRCP strongly condemns such language against the people of Andhra Pradesh and the CM. The way he is reacting clearly shows that he has lost the trust and respect of the people. People are watching closely and will give you their verdict at the right time," Sajjala said.