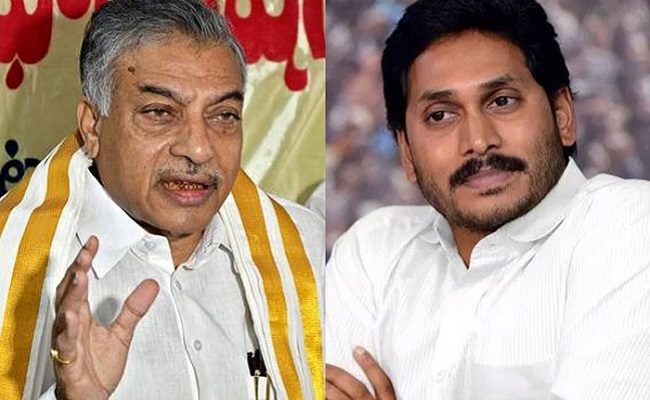 Dr Yarlagadda Lakshmi Prasad, was very close to late N T Rama Rao, when the latter was alive. More than NTR, he was Guru to Harikrishna in those days.
When Jagan Mohan Reddy dropped NTR's name from the AP's health university, Dr Yarlagadda had sent his resignation to the post of chairman of the official language committee.
He said he was pained at the decision and felt that Jagan could have created another institution and named it after YSR while continuing the name of NTR for the health university.
On Wednesday, Dr Yarlagadda reiterated that he would not withdraw his resignation.
However, YLP, as he is popularly known, showered praises on Jagan Mohan Reddy.
He told media persons in Vijayawada on Tuesday that Jagan Mohan Reddy was doing better than the previous regime.
He said that YS Jagan is a hero as he revolted against the most powerful leader Sonia Gandhi in those days, faced jail term for 16 months, came out and walked 3850 Km in the name of Padayatra and finally won 151 Assembly and 23 MP seats. He reiterated that it is nothing but heroism.
He also took a dig at Chandrababu Naidu for stopping Bharat Rathna confirmation on NTR and blamed the TDP chief for playing politics with NTR even after the latter's death.
He also revealed how Chandrababu Naidu stalled the declaration of Bharat Rathna to NTR when Vajpayee was the Prime Minister.
Though Jagan's decision had caused some pain, YLP said that Chandrababu Naidu's actions have caused heartburn.
However, he said he would continue to work for the Telugu language promotion and development, though he had resigned to the chairman post.
He also shared about the magnanimity of YSR during a notorious gun shooting episode that happened in a family related to NTR.