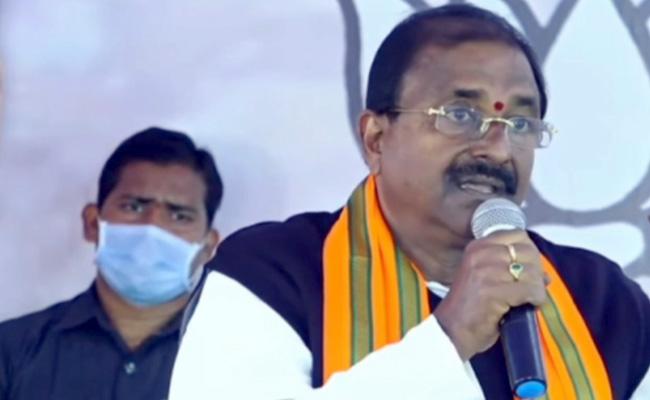 Bharatiya Janata Party on Tuesday dropped enough hints that it won't join hands with the Telugu Desam Party under any circumstances in the forthcoming assembly and general elections in Andhra Pradesh at any cost.
BJP Andhra Pradesh unit president Somu Veerraju categorically announced at the party's state executive committee meeting, which began at Bhimavaram in West Godavari district that his party would keep away from corrupt, family-oriented and dynastic politics and fight against them.
"Our objective is to pull down parties which promote hereditary politics and family rule. So, there is no question of joining hands with such parties. A resolution to this effect would be adopted at the BJP state executive committee meeting," Veerraju said.
The BJP chief's announcement in the backdrop of the decision taken by power star and Jana Sena Party president Pawan Kalyan to join hands with the Telugu Desam Party ahead of the next elections.
The party might take a call on ending the alliance with the Jana Sena Party in the wake of the latter taking a pro-TDP stand. Though there were reports that the BJP might also join the TDP-Jana Sena combine, Veerraju's statement put an end to this speculation.
The BJP state chief lashed out at the TDP and YSR Congress party governments in the state saying both the parties had not done anything to the state except promoting corruption since 2014. He alleged that the present Jagan Mohan Reddy government was encouraging murder politics.
He found fault with the Jagan government for bringing in GO No. 1 to curtail the freedom of expression of the political parties. He wondered how Jagan could take out the padayatra.
"Why is the chief minister bringing out orders that reminded us of emergency days?" he asked.