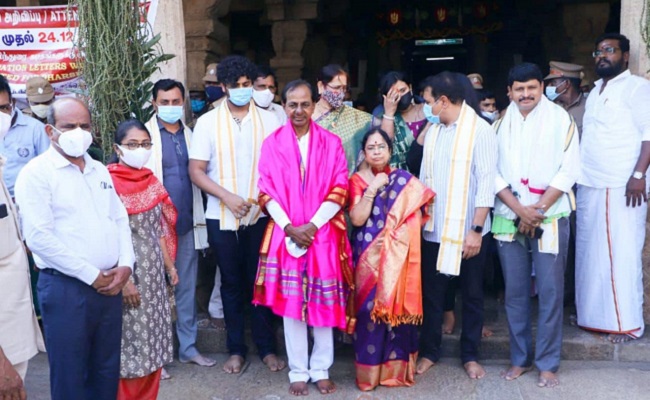 The sudden decision of Telangana Rashtra Samithi president and chief minister K Chandrasekhar Rao's visit to Tamil Nadu for two days on the pretext of pilgrimage raised many an eyebrow.
Though KCR's primary objective of going to Tamil Nadu was to have the darshan of Lord Ranganatha Swamy at Srirangam in Tiruchirapally district along with his family, his actual intention seems to be meeting his counterpart and DMK chief M K Stalin.
Though not officially declared, sources in the CMO leaked to the media that KCR would have a meeting with Stalin at 4 pm on Tuesday at the latter's residence in Chennai. It would mean he had already sought an appointment with Stalin before going to TN.
In fact, Stalin deputed his cabinet colleague Arun Nehru to ensure protocol facilities to KCR and his family members during their visit to Srirangam.
Apart from KCR, his wife Shobha, son K T Rama Rao, daughter-in-law Shailima, grandson Himanshu, granddaughter Alekhya and nephew J Santosh Kumar, also had the darshan.
The TN government also made arrangements for KCR's stay at Hotel ITC Grand Chola in Chennai.
So, what would KCR discuss with Stalin? It is learnt KCR will talk with Stalin about the consolidation of anti-BJP forces.
He knows that West Bengal chief minister is making her own attempts of an anti-BJP front, but she would not entertain the TRS. At the same time, she is also not willing to take the Congress along with her.
Now, the only option is that there should be revival of the UPA with Congress as a major partner.
In May 2019, when KCR went to Chennai as part of his attempts to stitch up a federal front of regional parties, Stalin did not like it, because KCR did not want Congress to be part of it, but Stalin wanted a Congress-led United Progressive Alliance.
Now, KCR has realised that he has to join hands with the Congress, if he has to stall the BJP both at the Centre and the state.
Recently, his party MPs attended the meeting of the UPA partners at Congress leader Mallikharjun Kharge's office against the BJP highhandedness.
Now, if KCR wants to join the UPA, he would have to face Sonia Gandhi and Rahul Gandhi. So, he might be seeking a mediation from Stalin so that the TRS could get back into the UPA.