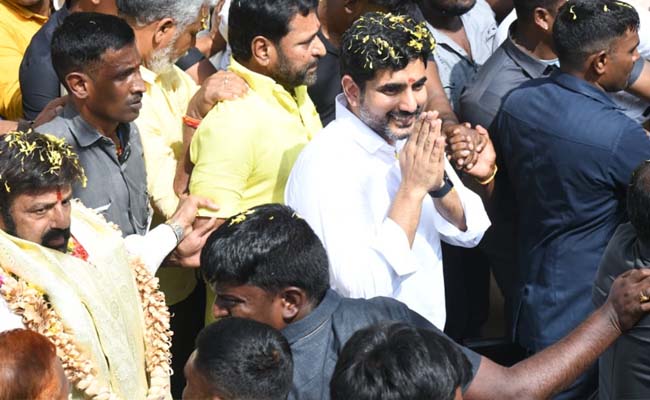 Before the commencement of the padayatra from Kanyakumari to Kashmir, Congress MP Rahul Gandhi was never acknowledged as a big leader, at least by the common people, despite the fact that the Congress leaders were trying to project him as the future of the party and the country.
The Bharatiya Janata Party leaders often called him a "Pappu" for lack of strong leadership abilities, as he refused to lead his own party after a series of electoral debacles. In fact, Rahul himself had lost his seat in Amethi and managed to become an MP from Wayanad in Kerala, a safe seat for the Congress.
But after Rahul took the bold step of walking from Kanyakumari to Kashmir, one has noticed a considerable change in him and the people's perception towards him also changed. It is a different matter that he may still not be a match for Narendra Modi, but definitely, it helped him grow as a mass leader.
Now, people are wondering whether Nara Lokesh, Telugu Desam Party general secretary and party president N Chandrababu Naidu's son, will gain anything from his marathon padayatra, which is going to commence at Kuppam from Friday.
The national media is curiously watching whether the padayatra will bring out any leadership qualities in Lokesh and make him a real heir apparent of Naidu. Forget about bringing the TDP to power, one wonders whether Lokesh would prove himself as leader of calibre like his father.
Being a young man, it might not be a difficult task for Lokesh to walk for 4,000 km in a span of 400 days. When Naidu could walk for nearly 2,800 km at the age of 63 years, Lokesh will definitely be able to do it.
But whether he will be able to attract crowds and win their confidence; whether he will brave the challenges from the rival YSR Congress party and whether he will be able to generate any euphoria among the party cadres are all million-dollar questions.
According to a report in the national media, Lokesh, all these days, has been basking in the glory of his grandfather – legendary N T Rama Rao and father- N Chandrababu Naidu. Though he entered active politics almost a decade ago, he has not been able to prove his leadership abilities.
Like Rahul Gandhi, he, too, got the sobriquet of "Pappu Naidu" and "Chitti Naidu" as he could not win his own assembly seat from Mangalagiri. He directly became the minister in Naidu's cabinet and later nominated to the state legislative council under the MLAs' quota.
While K T Rama Rao, son of Bharat Rashtra Samithi president and Telangana chief minister K Chandrasekhar Rao and Y S Jagan Mohan Reddy, son of late CM Y S Rajasekhar Reddy, could prove themselves as successful political heirs, Lokesh failed to emerge as a leader.
One would only hope the padayatra would transform Lokesh into a strong leader and a true successor of Naidu.