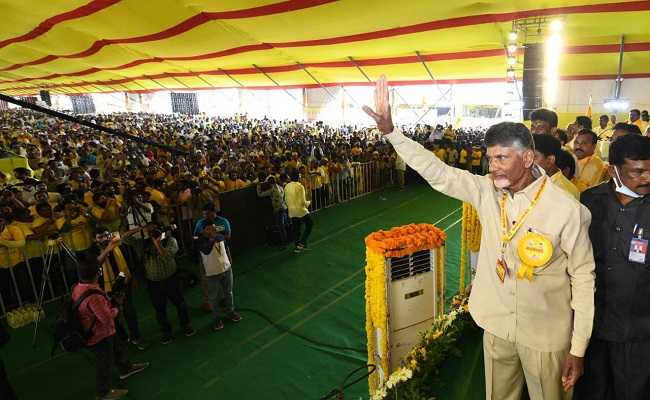 It was only recently that Telugu Desam Party president and former Andhra Pradesh chief minister N Chandrababu Naidu was talking about bringing about unity among like-minded political forces in the state to dethrone the Y S Jagan Mohan Reddy government.
He also hinted that his party was ready to make certain sacrifices to accommodate such like-minded forces in order to defeat the YSRC in the elections.
Naidu had in the past hinted at a possible alliance with Jana Sena Party headed by Pawan Kalyan, saying his party was ready but there should be reciprocal response from the other side. Indirectly referring to Naidu's call, Pawan Kalyan, too, has vowed to prevent split of the anti-incumbency vote.
Interestingly, there was no mention of any "alliances" or "sacrifices" or the "unity of like-minded forces" to defeat the Jagan government, during the discussions at Mahanadu, the TDP's biennial conclave being held at Ongole.
The political resolution moved by senior TDP leader and former minister Yanamala Ramakrishnudu had no mention of any possible alliances with other parties ahead of the next assembly elections. There was no talk in the Mahanadu about realignment of political forces at all.
The political resolution only said the party leaders and cadres had to strive to reach out to all sections which had moved away from the party in the last elections.
"There is need to set focus on the sections, which distanced themselves from the party in the last elections, to bring them on board. Party should make strategic moves for the protection of weaker sections including SC, ST, BC and minorities," said the political resolution.
Interestingly, the political resolution was also silent on its stand towards the Bharatiya Janata Party-led Narendra Modi government at the Centre.
Generally, it was expected to make comments on the anti-people policies of the Centre, like rising prices of fuel, increasing tax burden on the people and curtailing of powers of the states.
But the TDP resolution at Mahanadu did not make any such comments. It neither praised or criticised the Modi government.
All that it said was that the TDP would play a key role in the national politics keeping in view of the state's interests.