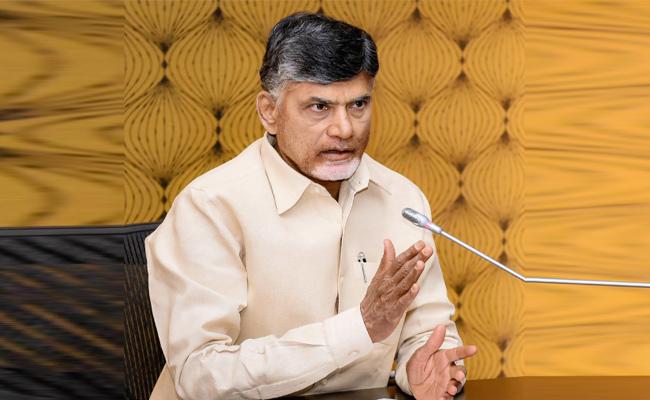 After confining himself to his cosy Jubilee Hills residence in Hyderabad for nearly 65 days in the name of lockdown, Telugu Desam Party president and former Andhra Pradesh chief minister N Chandrababu Naidu has left for his Amaravati residence on Monday.
Naidu applied for police permission to fly to Visakhapatnam to call on the families of the gas leakage victims of LG Polymers and come to Amaravati by road. After examining all aspects, DGP Gautam Sawang issued an e-pass to the TDP chief on Sunday evening.
The DGP said that the request of Naidu for travel from Hyderabad to Visakhapatnam and from Vizag to Undavalli was considered as a special case and permission was given under essential service provider category.
However, Naidu's plan to visit the port city was shattered as the Centre had cancelled all the flight services to and from Andhra Pradesh on the request of the state government on technical grounds and the flights would start only on Tuesday. As a result, the TDP chief had to cancel his Vizag tour on Monday.
This has angered the TDP leaders like former minister K Atchannaidu who alleged that the YSR Congress government had deliberately deferred resumption of flight services to Tuesday only to prevent the former chief minister from visiting Vizag.
"It is only after Chandrababu Naidu's schedule was announced that the State government deferred the resumption of services, that too only by a day. Civil Aviation Minister Hardeep Singh Puri's tweets indicate the same," he claimed.
It looks like the TDP leaders are trying to project a larger than life size image of Naidu and create an impression that the YSRC government was afraid of his visit to Visakhapatnam.
This is silly. If the Jagan government is really afraid of Naidu's visit to Vizag, it would not have given the permission in its first place. Secondly, it would have cancelled the flights only to Visakhapatnam. But the flights were cancelled in the entire state – Visakhapatnam, Vijayawada and Tirupati airports.
So, the reason for cancellation of flights could be purely technical and had nothing to do with Naidu's visit to Visakhapatnam. At the most, Naidu would have to defer his Vizag trip by a day. Since he is going to Amaravati anyway, he could take rest for and leave for Vizag by road or by helicopter on Tuesday!
CLICK HERE!! For the In Depth Updates on all the OTT Content