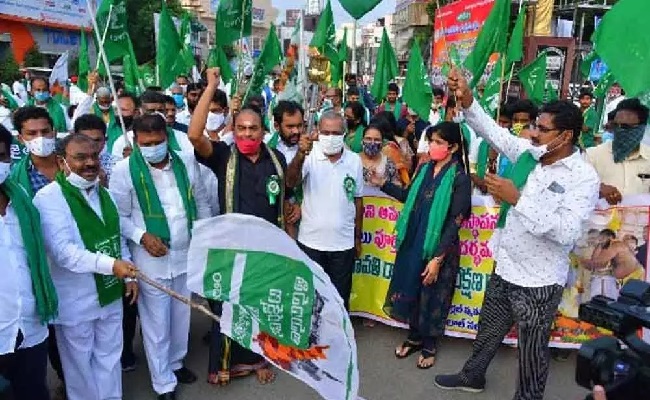 After getting the green signal from the state high court and conditional permission from the Andhra Pradesh police, farmers belonging to Amaravati capital region set off on a 45-day long padayatra from Thullur to Tirupati on Monday.
Massive arrangements were made for the padayatra, named as "Nyayasthanam to Devasthanam" for nearly 200 farmers, who walked for 10 km on the first day before breaking it at 6 pm as per the conditions imposed by the police.
As expected, barring the ruling YSRC, all the opposition parties in the state including the TDP, Jana Sena, BJP and the Left parties extended their support to the "padayatra" of the farmers.
But what surprised everybody was the preparations made by these "farmers" for the padayatra. Extensive campaign was made in the social media and mainstream media.
Banners were erected everywhere, special songs were released on the padayatra, drums and trumpets were arranged to give the boost to the participants, besides food and water arrangements for those who came to Thullur for the launch of the padayatra.
The organisers also arranged a fully-decorated van, resembling the temple with some of the participants being given the make-up of Lord Venkateshwara and Goddess Padmavathi.
They were chanting "Edukondalavaada Venkataramana, Govindaa. Govindaa," all through the padayatra.
The organisers also made cosy make shift tents for the night halt of the participants of padayatra, food and water arrangements and even medical facilities.
One wonders how much money the so-called farmers are spending on the programme. And no wonder home minister M Sucharita alleged that the farmers' agitation is being sponsored by big business people!