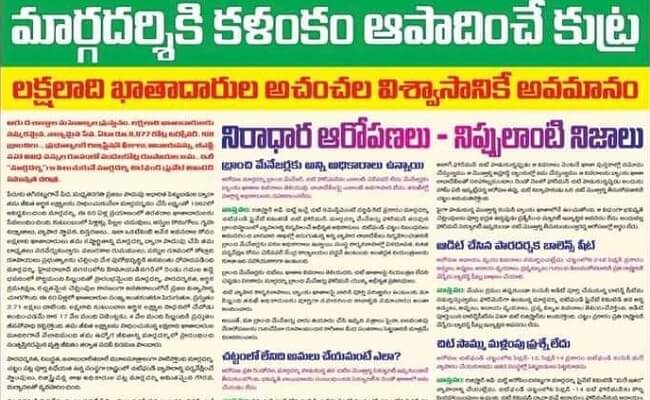 Eenadu Group chairman Cherukuri Ramoji Rao had to give advertisement in the newspapers for the first time.
He heads several companies like Margadarsi Chit Funds, Mayuri Films, Priya Pickles and Ramoji Film City.
Not even a single time he issued advertisements in the newspapers for any of these companies, including the films.
He used his Eenadu and Etv for advertisements and that was enough for him to get the maximum publicity.
Perhaps for the first time, Ramoji Rao had given an advertisement in his own Eenadu and the neighbouring Andhra Jyothi papers the other day.
He spoke about the Margadarsi Chit Funds and alleged harassment by the Y S Jagan Mohan Reddy government in Andhra Pradesh.
He also accused the state government of continued attack on Margadarsi, while he continued to target the state government through his Eenadu paper.
On one side he accused the government of victimising his company and on the other, he never took a break from victimising the government through false and fake reports in his media.
This is what is called the double standards that Ramoji Rao adopts and has been practicing.
He targeted his rivals, be it the media or the chit fund sectors all through his life and saw that they were closed.
He is responsible for the closure of several newspapers and chit fund companies over the years.
But now, surprisingly, he speaks and poses like a monk pointing an accusing finger at Jagan Mohan Reddy.
Going by all his cries, one feels that if late Dr Rajasekhar Reddy made Ramoji Rao half naked, Jagan Mohan Reddy made him full naked!