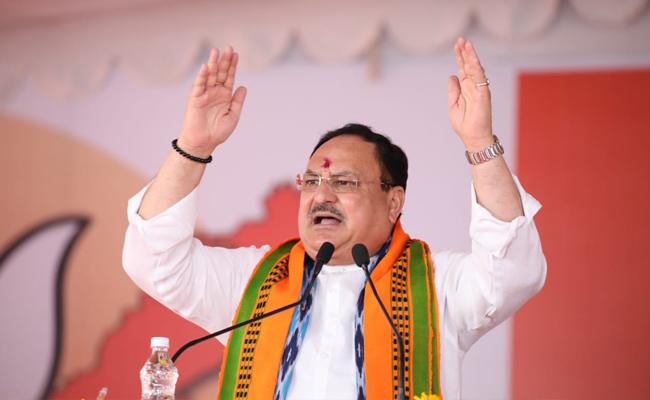 Bharatiya Janata Party national president J P Nadda on Saturday vowed to put an end to the corrupt and dictatorial regime of Telangana Rashtra Samithi led by chief minister K Chandrasekhar Rao in the next assembly elections.
"We have shown the power of saffron to KCR in the by-election to Dubbak and Huzurabad. We shall repeat the show in the next year's assembly elections," Nadda said, addressing a massive rally held at the Arts College grounds in Hanamkonda, as a culmination of the Praja Sangrama Yatra of Telangana BJP president Bandi Sanjay Kumar.
Commencing his speech in chaste Telugu, Nadda said he was fortunate to step into the land of historic Orugallu (Warangal) town and pay obeisance to Goddess Bhadrakali.
"I feel it privilege to take part in the third phase of Praja Sangrama Yatra, whose objective is to show a new beacon of light to the Telangana which was pushed into darkness by KCR," he said.
Describing the TRS regime as anti-people, Nadda said even during the second phase of padayatra, which he had attended, the TRS government had arrested Sanjay.
"During the Telangana liberation movement, then erstwhile ruler Nizam used to issue "firmans" against holding public meetings. Subsequently, he had lost power. Now, KCR is also issuing similar "firmans" prohibiting public meeting by opposition parties. Needless to say, they would be his last orders," the BJP national president said.
He said it was certain that the people would show the door to KCR and give overwhelming support to the BJP in the coming days.
Nadda accused KCR of not spending the Central funds properly and diverting them to his own schemes.
"When there were floods in Telangana in the past, the KCR government had not fully utilised the funds released by the Centre. He has been diverting central funds and rebranding the centrally-sponsored schemes as his own by projecting his own image," he alleged.
Stating that it was the BJP which had taken the first initiative towards the formation of Telangana by adopting a resolution at Kakinada conclave, the BJP national president said the people were very much aware of the BJP's commitment to Telangana.