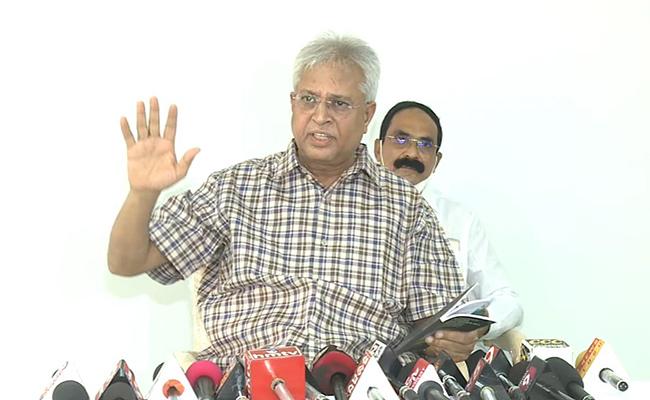 Vundavalli Arun Kumar, the so called intelligent speaker has shocked many in political circles with his illogical talk yesterday.
Just a few days ago, he shared his experiences in connection with his Margadarsi case against Ramoji Rao and exposed the loopholes and invisible power centers in judiciary.
He lamented that he had faced many surprises with regard to his case in the Supreme Court. He has also said that system will not function on its own but the the government only runs it.
After saying all this, today he advised YS Jagan Mohan Reddy to file a case in the Supreme Court against the central government with regard to the cost of Polavaram project.
He raised his voice against Jagan for keeping silent on the latest decision of the Central government to restrict the cost of Polavaram major irrigation project on Godavari river at Rs 20,398 crore, instead of the proposed cost of Rs 55,587 crore and the revised project cost of around Rs 47,700 crore.
What will happen with filing a case in Supreme Court? As per Vundavalli's recent press meet, it will never come to conclusion.
But the relation between YS Jagan Mohan Reddy and the Prime Minister will be strained. Vundavalli himself said that Jagan is afraid of CBI cases against him and so he is not questioning Modi on this issue.
So, Vundavalli seems to be missing the drama in his state. He seems to be waiting for YS Jagan to go behind bars so that there will be entertainment for him. But hiding his own desires, he tried to cover up saying that it is not easy to arrest Jagan at this point of time, and even if he is arrested his own person will run the government etc.
But reading between the lines, the intentions of Vundavalli are clear. He wants drama but not the solution.
It is known that YS Jagan Mohan Reddy has already made a point that the cost restriction in Polavaram Project shouldn't be agreed. He will have his own negotiation methods to get the things done in favor of his state.
Why should Vundavalli rant on it and give illogical advises?
Well, Vundavalli must be advising Jagan to file a case in the Supreme Court (despite knowing that fact that it goes nowhere) to be in the good books of his voters.
If that is the case, then he should know that YS Jagan Mohan Reddy had long ago said that he would never act in front of the people but only work towards solutions.
Kiran Sharma
Click Here for Latest Direct-to-OTT Releases (List Updates Daily)