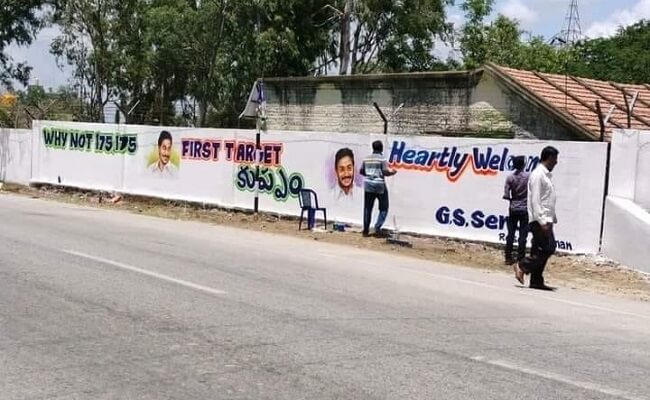 YS Jagan Mohan Reddy, the Chief Minister of Andhra Pradesh is touring in Kuppam on 22nd of this month.
It is known that this constituency has been the strong fort for Chandrababu Naidu for decades.
But the local body elections after YSRCP formed government in AP in 2019, changed the fate of this place.
Kuppam Panchayat is made into a Municipality after YS Jagan became Chief Minister.
YSRCP is very active in this place and the task in the checklist of YS Jagan Mohan Reddy is to defeat Chandrababu here in the coming 2024 general elections.
Everything is fine but many are feeling that YSRCP fans are showing over confidence with enthusiasm by mentioning "Why not 175/175" on the walls.
In fact they can mention about their mission to capture Kuppam Assembly Constituency. But highlighting the 175/175 thing which YS Jagan Mohan Reddy expressed in MLAs' meet long ago here is going overboard, as per the general public.
We have to see what change is going to be seen in the Kuppam politics, after YS Jagan's public address here.