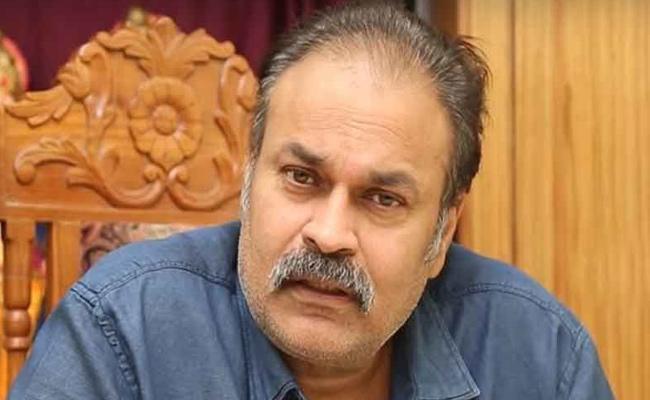 For quite some time, there has been a talk about power star and Jana Sena Party chief Pawan Kalyan has a secret understanding with the Telugu Desam Party led by former Andhra Pradesh chief minister N Chandrababu Naidu and whenever there is a chance, the ruling YSR Congress leaders say Jana Sena is the branch office of the TDP.
But Pawan Kalyan's elder brother Naga Babu, who has been hitting headlines with his controversial tweets, seems to have a different view.
He has been displaying his utter hatred towards the TDP, which was evident from the way he attacked senior TDP MLA Nandamuri Balakrishna on land dealings.
"If you talk about land dealings, we may have to raise the insider trading of lands in Amaravati in which you are a partner," he warned.
On Saturday, Naga Babu stepped up attack on the TDP once again. On which party would replace the YSR Congress party government after five years in Andhra Pradesh, he said only time would decide whether it would be YSRC again or Jana Sena or the Bhartiya Janata Party.
"But one thing is certain. I strongly feel the TDP will not come back to power again. The party had not done anything for the people of AP during its regime. The so-called development during the TDP regime was seen only in the pro-TDP papers and television news channels," he criticised.
Naga Babu went on to say that the actual development on the ground was very less.
"There are many other issues – like corruption, sand mafia, call money etc. This twitter is not enough to describe all of them, one can write a book of one lakh pages. That is why, the TDP had faced such a humiliating defeat in the last elections. The TDP leaders should realise that," he said.
He had a word of advice for the TDP leaders stating that they should come out of dreams that they would come back to power and the next government would again be theirs.
"They are welcome to have such dreams. But in psychology, they are called hallucinations. All the best for your hallucinations," Naga Babu tweeted.
It remains to be seen how Pawan Kalyan will react to his brother's tweets – whether he would endorse them or dismiss them as Naga Babu's personal opinions.