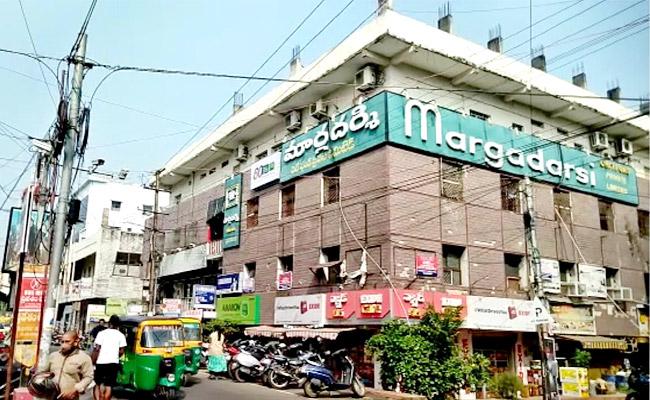 The Y S Jagan Mohan Reddy government in Andhra Pradesh on Tuesday targeted the Margadarsi Chit Funds, promoted by media baron and Eenadu group of publications chairman Ch Ramoji Rao in a suspected scam of collecting deposits against the RBI norms.
According to the information available so far, several teams of AP Stamps and Registration Department swooped on Margadarsi Chit Funds offices at several places across the state, including four in Vijayawada and began searches of records.
Apart from Margadarsi, raids are also being conducted on the offices of other prominent chit fund companies, including Sriram Chits and Kapil Chit Funds. The authorities are scanning through the records of these companies, sources said.
Apparently, the Jagan government has specific complaints that Margadarsi is forcing the bidders to deposit their chit money, which is supposed to be refunded to them, in fixed deposits. The company is allegedly circulating the same money through lending at higher interest rate.
"If there is any evidence of the irregularities, we shall book criminal cases against the promoters of the chit fund companies," an official said.
Last week, former Congress MP from Rajahmundry Vundavalli Arun Kumar demanded that the Central government order an investigation by the Enforcement Directorate (ED) or Securities and Exchange Board of India (SEBI) into the alleged collection of deposits by Margadarsi Financiers, a group concern of Margadarsi Chit Funds, in violation of the Reserve Bank of India Act.
He pointed out that Margadarsi Financiers is a Hindu Undivided Family (HUF) concern promoted by Ramoji Rao and as per the RBI rules, it cannot collect deposits from public. However, the company had mobilised Rs 2,600 crore from people in the form of deposits.
He said he had filed a case in the high court against Margadarsi in 2006 itself during the combined Andhra Pradesh regime, but the state high court in 2014, dismissed the case, after Rao had claimed that he was not part of the HUF.
In 2020, Vundavalli challenged the high court verdict in Supreme Court. On August 20 this year, the Andhra Pradesh government also impleaded in the case by filing a special leave petition, accusing Margadarsi Financiers of being guilty of violation of not only the provisions of the Reserve Bank of India Act but also the provisions of the Income Tax Act and also the Andhra Pradesh Protection of Depositors of Financial Establishments Act, 1999.