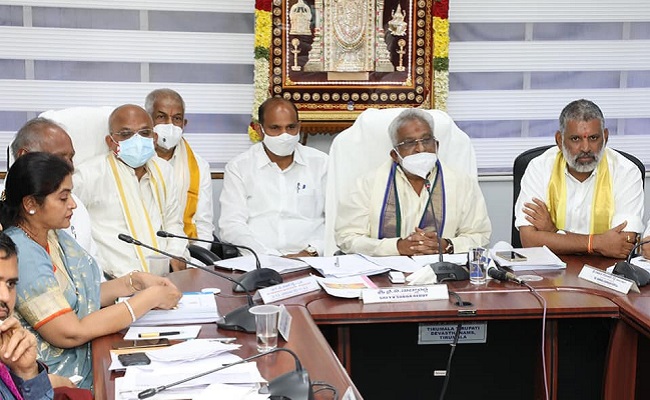 It was the last day for senior YSR Congress party leader Y V Subba Reddy as the chairman of Tirumala Tirupati Devasthanams (TTD) on Saturday, as he chaired the last meeting of the present trust board at the Annamayya Bhavan.
It is not immediately known whether Subba Reddy will get extension as the TTD chairman or somebody else would be appointed in his place. But at least for now, he completed his present term.
Speaking to media after the trust board meeting, Subba Reddy thanked Andhra Pradesh chief minister Y S Jagan Mohan Reddy for giving him an opportunity to serve Lord Venkateshwara for the last two years.
He also expressed gratitude to all the members of the Trust Board, TTD authorities, officials, employees and everyone for extending support to the Board in executive some innovative and important works for the benefit of the pilgrims.
Subba Reddy said though the Board has to face the hard time due to the Corona pandemic almost from the past one and a half years, with the support from TTD officials and pilgrim public many development works were taken up.
He said during his tenure, priority was given to common pilgrims curbing the categories of L1, L2 and L3 in VIP Break Darshan System. Tirumala was made a plastic free zone by completely banning the usage of plastic.
"To weed off the ill effects of Covid-19 virus pandemic, the TTD has taken up several spiritual programmes in the last 14 months in Nada Neerajanam platform at Tirumala by telecasting live on SVBC which boosted confidence among world devotees," he said.
He said the board had resolved to construct a temple at Himalayas and hence did the foundation stone ceremony at Majhin village area in Jammu on June 13. The Srivari temple works will be completed here in the next one and a half years.
"Once the things return to normalcy, TTD is also contemplating to construct Srivari temples in Varanasi and Mumbai in a span of next one year," he said.