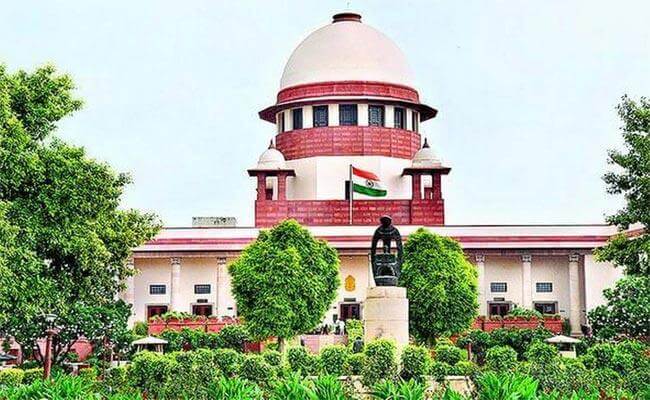 The Supreme Court issued notices to the Y S Jagan Mohan Reddy government on Wednesday regarding the issuance of a government order asking village and ward volunteers to purchase Sakshi newspaper, which is owned by the chief minister.
A division bench, comprising Chief Justice of India D Y Chandrachud, Justice P S Narasimha, and Justice J B Pardiwala, was hearing a petition filed by Ushodaya Publications, which owns a leading Telugu daily called "Eenadu," challenging the government order.
Eenadu had approached the Supreme Court against a judgment of the Andhra Pradesh High Court, which refused to quash the government order.
The government order sanctioned Rs 200 per month from the state government funds as additional financial support for each village/ward volunteer to enable them to purchase one widely circulated Telugu newspaper, which gives them more knowledge and awareness of contemporary issues and information on government schemes.
The state high court, while rejecting the plea to stay the government order, stated that there was no material showing that the order instructed the volunteers and village secretariats/ward secretariats to subscribe to "Sakshi."
Senior advocate Mukul Rohatgi, appearing for Ushodaya Publications, told the Supreme Court that the subscription charge for "Sakshi" was Rs 176.50 per month, while that of "Eenadu" was Rs 207.50 per month.
He said that the government had purposely fixed the additional grant of Rs 200 per month to suit the monthly subscription charges of "Sakshi" to help the newspaper grow over and above the circulation of "Eenadu," adding that all those who support the government get Rs 200.
Rohatgi further argued that Chief Minister Y S Jagan Mohan Reddy was the owner of "Sakshi" and thus wanted to boost its sales.
He said, "Jagan Reddy wanted to attack "Eenadu" to settle his score with Opposition leader N Chandrababu Naidu."
"The government has also said that Eenadu is yellow journalism and don't go for it. He says Eenadu is yellow journalism, it's a front for Chandrababu Naidu," he pointed out.
The court issued a notice in the matter and asked the government to file a counter by April 10.