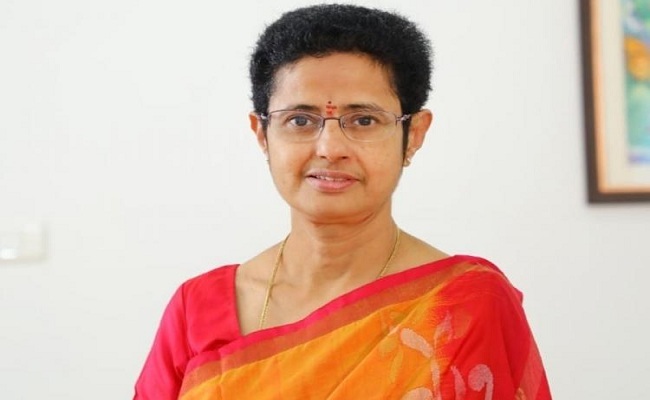 YSR Congress party general secretary and Rajya Sabha MP V Vijay Sai Reddy, who doesn't waste any opportunity to target Telugu Desam Party president and former Andhra Pradesh chief minister N Chandrababu Naidu, has found one more such an opportunity on Wednesday.
At a time when the entire family of TDP founder and legendary actor N T Rama Rao is in a deep grief over the alleged suicide by his youngest daughter K Umamaheshwari, supposedly owing to ill-health, Sai Reddy sought to drag Naidu into the unfortunate incident.
Though the Jubilee Hills police have registered a case of suspicious death as they do in the case of every suicide, the actual reasons for her suicide are still not known – whether it was really due to health issues or there were any family issues.
The post mortem report also apparently revealed it to be suicide, but it cannot bring out the real reasons behind the suicide. Going by her daughter Deekshita's complaint with the police, Umamaheshwari was in depression due to chronic health issues.
But Sai Reddy sought to project it as a suspicious death, raising doubts over the possible involvement of Chandrababu Naidu in it.
"There are several doubts over Umamaheshwari's death – whether it was due to harassment by Chandranna or whether somebody had killed her and projected it as a suicide by hanging," he tweeted.
Sai Reddy said nobody would believe NTR's daughter would be in so helpless condition to take to such an extreme step.
"You should ask for a CBI inquiry to bring out the truth, Chandranna," he asked.
The YSRC MP also dragged former assembly speaker Kodela Sivaprasad Rao's name into the latest episode.
"Those days, they first said Kodela had suffered heart attack; later, they said he had hanged himself to death. Subsequently, his mobile phone disappeared," he recalled.
Stating that they tried to project Umamaheshwari's death also as a natural death, Sai Reddy wondered why people so close to Chandrababu Naidu were facing such untimely death.
Obviously, Sai Reddy sought to turn the tables on Naidu, who has been repeatedly raising similar doubts over the murder of YSRC leader and former minister Y S Vivekananda Reddy to corner chief minister Y S Jagan Mohan Reddy.
So, nothing is fair in politics!