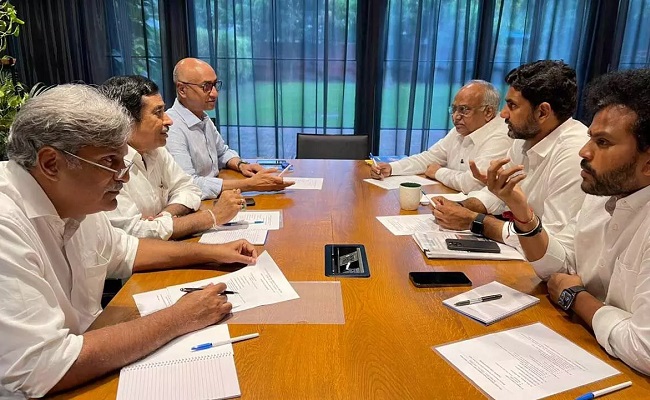 Perhaps for the first time the Telugu Desam party general secretary Nara Lokesh has chaired the meeting of TDP Parliamentary Party meeting held in New Delhi on Saturday.
Generally, the meeting is chaired by TDP president N Chandrababu Naidu at the party office in Amaravati. But with Naidu being in jail, Lokesh had to don the mantle and chair the TDPP meeting ahead of the special session of Parliament commencing from Monday.
The development has sent a clear message to the party leaders and cadre that Lokesh would be the heir apparent of the party and if Naidu continues to remain in jail in one case or the other, Lokesh would have to lead the party from the front.
The meeting, which is mainly focussing on the strategy to be adopted by the party in the upcoming Parliament session.
While Lokesh has no idea as to what the session is all about and what stand the party has to take, he is learnt to have sought the opinions of the party MPs – three Lok Sabha members and one Rajya Sabha member.
Apparently, Lokesh asked the MPs to focus on the arrest of Naidu in the skill development case and mobilise the support of all the like-minded political parties, so as to bring it to the notice of Prime Minister Narendra Modi.
The meeting also decided that the MP would take up the prevailing situation in Andhra Pradesh following the remand of Chandrababu Naidu. The MPs decided to bring the attention of Parliament on both the issues.
Sources said a team of Showtime Consulting, an agency headed by political strategist Robbin Sharma has plunged into action to extensively campaign against the alleged illegal arrest of Naidu.
It was the one who launched "I am with CBN" campaign for the last two days, across all major cities in South India and also in Delhi.
A group of four to five members of Robbin Sharma team accompanied Lokesh to arrange interview with national media channels and print media reporters in Delhi and ensured that he got the extensive coverage, sources said.