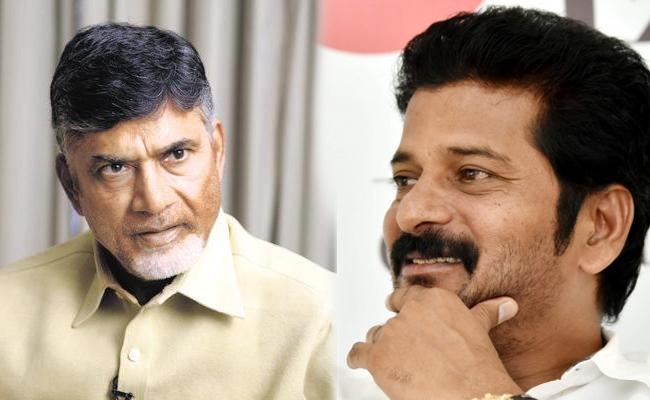 Firebrand MP from Malkajgiri Telangana Pradesh Congress Committee president A Revanth Reddy is facing a peculiar situation these days. Despite heading the state Congress, his past association with the Telugu Desam Party is still haunting him.
As Revanth started attacking his political rivals – Telangana Rashtra Samithi and Bharatiya Janata Party aggressively, they are launching a counter-attacking, describing him as a stooge of TDP president N Chandrababu Naidu.
Particularly, the TRS leaders are trying to project him as a mole of Chandrababu Naidu conspiring against Telangana state. TRS working president K T Rama Rao described him as a puppet of Naidu, who wants to dominate the Telangana politics through proxy.
The BJP leaders are pointing out to Revanth's cash-for-vote case and questioning him why he was not criticising the TDP and Chandrababu Naidu.
Revanth is now desperately trying to get rid of Naidu tag and give an explanation to his critics.
In an interaction with the media the other day, he warned that he would beat his critics with chappals, if they continue to link him with Naidu.
Revanth made it clear that there is no need to attack the TDP as it had no existence in Telangana.
"The TDP is dead as far as Telangana is concerned and Chandrababu Naidu has no work to do in this state nor does the party have any stand on Telangana issues. So, what is the point in talking about the TDP and why should I criticise it or Naidu?" he asked.
He asserted that he had quit the TDP and joined the Congress only as per the aspirations of the people of Telangana.
"I have not come out of the TDP for not getting any posts or positions in the party nor did I have any differences with Chandrababu Naidu. I came out of the TDP because it has lost its relevance in Telangana," he said.
Revanth shot back at his detractors for describing him as Naidu's mole.
"Just because I am not attacking the TDP or Naidu, I cannot be called his man. Why should I attack a man who has nothing to do with Telangana state?" he asked.
He asserted that he was Sonia Gandhi's loyalist and president of Telangana Congress. "I am nobody's plant or mole," he clarified.