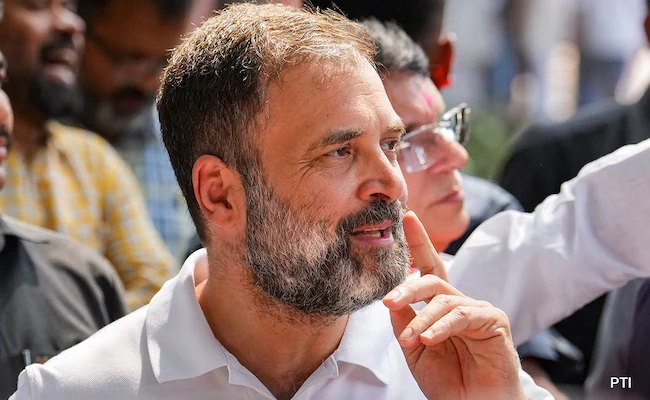 Rahul Gandhi is gaining prominence in national politics, as highlighted by the media group associated with Adani. They published that while Modi's dominance remains intact, Rahul Gandhi's influence has increased by 3% compared to 2019.
The article also suggests that Rahul Gandhi stands among the top leaders who can challenge Narendra Modi in the upcoming elections.
Examining the triumph of Congress in the Karnataka Assembly elections, it becomes evident that the regional party JDS suffered greater losses compared to the BJP. The growing image of Congress is expected to impact regional parties in other states as well.
In the past, loyal Congress voters shifted their support to regional parties due to the perceived lack of a strong leader within Congress. Rahul Gandhi was seen as a weak contender compared to Modi.
However, with Rahul Gandhi's rising prominence, the traditional Congress voters are returning, abandoning regional parties. Analysts predict that this effect will be seen in the upcoming general elections.
Within this year, Assembly elections are scheduled in Rajasthan, Madhya Pradesh, and Telangana, which are significant states.
There is a possibility of Congress losing in Rajasthan to the BJP due to internal conflicts between Sachin Pilot and Ashok Gehlot, potentially hampering the unity within Congress. However, in Madhya Pradesh and Telangana, Congress has a strong chance of winning if the wave continues. The loyalty of Muslim voters and secularists, which previously went to regional parties, has now shifted towards Congress.
The impact may also be felt in Andhra Pradesh down the line, though not immediately, considering the absence of a strong Congress cadre in the state. If Chandrababu Naidu changes his strategy and aligns with Congress at this time, he may have a good chance of winning, given the surging wave in favor of Congress.
Naidu made a mistake in 2019 by distancing himself from the BJP at the last hour, and another significant error by not maintaining a strong alliance with Congress. However, it remains uncertain if Congress would accept Naidu in the first place.
The reason regional parties are being affected this time is that people have recognized their soft approach towards Modi. Congress emerges as the only big opponent to the BJP, leading to the downfall of parties that gained prominence after Congress's decline in 2014.Jersey firm fined for discriminatory job ads seeking only Indians.