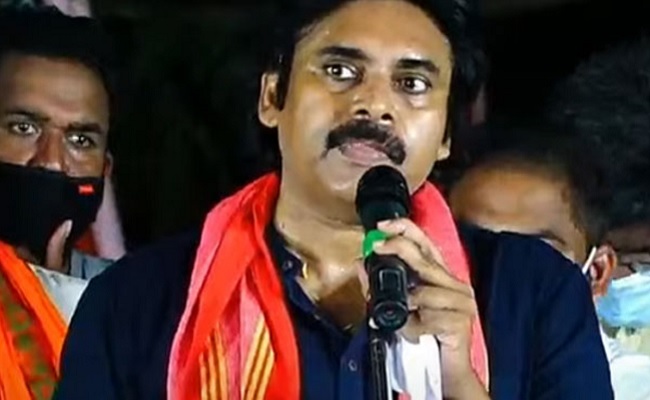 Jana Sena party president and actor Pawan Kalyan, who has been making an aggressive attack on the YSR Congress party government in Andhra Pradesh for the last few days, was forced to shut his mouth on the issues related to the Telugu film industry.
A day after meeting with Andhra Pradesh minister for information and public relations Perni Nani and clarified to him that Telugu film industry had nothing to with the controversial comments made by Pawan Kalyan at a film function last week, Tollywood representatives led by Dil Raju met Pawan Kalyan.
They held prolonged discussions with him and conveyed to him the message of the Andhra government that he should stop making any controversial comments against the Jagan government with regard to film industry issues.
The Jana Sena chief finally agreed to their request and assured to them that he would not rake up any issue pertaining to Tollywood. After discussions, the Tollywood representatives posed for photographs with Pawan and left the place.
So far so good. But there is an interesting development that took place later. The film industry representatives made Pawan give an open video appeal to the Jagan government after the negotiations.
In that video, Pawan reportedly requested Jagan government to forget differences with him personally and do justice to the film industry. He asked Jagan to allow increase in cinema ticket prices and pull the Tollywood out of red.
The responsibility of releasing the video byte of Pawan to the media was entrusted to a film producer. While the video bytes of Tollywood representatives were released to the media, the byte of Pawan went missing.
It took everybody by surprise. Normally, nobody would edit or delete the video byte of Pawan without his consent. Moreover, the producers don't need to delete it, because Pawan's appeal would have definitely help them as it satisfies Jagan's ego.
It has led to suspicion that Pawan himself might have changed his mind later and asked the producer to remove his byte. Ironically, many of the producers who met Pawan have no knowledge about the deletion of his byte.
Maybe, Pawan thought it is below his dignity to make an appeal to Jagan and surrender before the government!