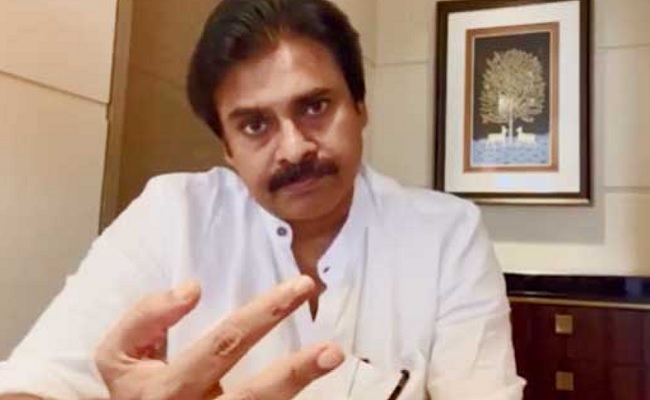 Tollywood hero and Jana Sena Party chief Pawan Kalyan appears to have made up his mind to snap ties with the Bharatiya Janata Party to test his fortunes independently in the next assembly elections.
Though everything appeared normal in the relations between Jana Sena and the BJP in the recent past, there have been no instances of both parties putting up any joint fight together against the Jagan Mohan Reddy government on any issue. Instead, both the Jana Sena and the BJP have been following their own paths.
Apparently, Pawan is said to be waiting for an excuse to sever the alliance with the BJP. And he found the people's unrest against the Narendra Modi government's firm decision to privatise the Visakhapatnam Steel Plant, besides monetising a large number of public assets including airports, ports and railways as the right reason to get out of the alliance.
Initially, Jana Sena Party did not evince much interest in the Visakhapatnam Steel Plant privatisation issue and Pawan did not make any strong statement in this regard. While the BJP defended the move, Pawan remained silent.
However, as the steel plant workers and the people of Visakhapatnam have stepped up their agitation and other opposition parties including the TDP and the Left parties joining the stir, Pawan Kalyan seems to have realised that if Jana Sena doesn't react on the issue, it would be politically disastrous for the party.
So, for the last few weeks, Jana Sena Party leaders from Visakhapatnam have been actively involved in the agitations against the steel plant privatisation and attending the all-party meetings, ignoring the stand taken by the alliance partner, the BJP.
During his recent visit to New Delhi, the Jana Sena chief reportedly told the BJP leaders categorically that his party would strongly oppose the privatisation of the Visakhapatnam Steel Plant and take part in the agitations.
He reportedly made it clear that the BJP-Jana Sena alliance would depend on the Centre's further moves on the steel plant privatisation issue.
Jana Sena political affairs committee convenor Nadendla Manohar told the media in Visakhapatnam recently that Pawan had made his own efforts to prevail upon the BJP leadership in Delhi to drop the steel plant privatisation move.
Meanwhile, Pawan Kalyan has also announced his plans to tour Visakhapatnam to extend solidarity with the agitating steel plant workers and take up the movement against the privatisation. This would, the workers feel, would further strengthen their agitation.
During his visit to the steel plant, Pawan Kalyan is bound to criticise the BJP government's move, while targeting the Jagan government for not doing anything to stop the privatisation of steel plant. And that would signal the end of ties with the BJP, analysts said.
Click Here for Latest Direct-to-OTT Releases (List Updates Daily)