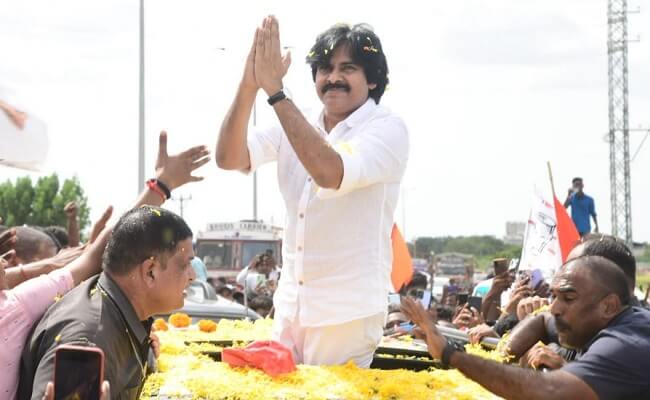 Jana Sena chief Pawan Kalyan has been finding fault with his brother and Megastar Chiranjeevi for meeting Chief Minister Y S Jagan Mohan Reddy.
The Jana Sena Chief had referred to this meeting as an issue of self-respect because Chiranjeevi and others have greeted the chief minister with folded hands.
Pawan Kalyan questions the authority of the chief minister to make others greet him with folded hands and says that Jagan Mohan Reddy was looking at people as slaves.
The Jana Sena chief said that he has self-respect and hence did not bow to Jagan Mohan Reddy even for his film Bheemla Nayak.
But the question is didn't Pawan Kalyan meet the then chief minister Chandrababu Naidu?
Didn't Pawan Kalyan greet Chandrababu Naidu with folded hands? Did he not meet Telangana chief minister K Chandrasekhar Rao and greeted him with folded hands?
Where did Pawan Kalyan's self-respect go when he greeted Chandrababu Naidu and Chandrasekhar Rao with folded hands?
Is someone meeting the Chief Minister and giving respect to the chair is equal to losing self-respect?
Why is Pawan Kalyan referring to this issue? Does it not amount to insulting his elder brother Chiranjeevi for cheap politics?
It is high time that someone should educate Pawan Kalyan that meeting a chief minister is not losing self-respect. If that is so, Pawan Kalyan had done so before with Chandrababu Naidu and Chandrasekhar Rao. He should look at his back, first.